May 3, 2023
SOURCE: BAE Systems
BAE Systems signs contract with Slovakias KOVAL SYSTEMS for CV90 production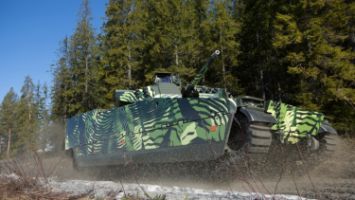 May 2, 2023 - BAE Systems and KOVAL SYSTEMS a.s have signed a contract in support of the production of new infantry fighting vehicles (IFV), the CV90MkIV, for the Slovak Armed Forces.
Slovak company KOVAL SYSTEMS a.s has won a contract from BAE Systems Hägglunds, the producer of the CV90 family of vehicles, for the complete turret assembly of the CV90s in the Slovak program. KOVAL SYSTEMS will also produce mechanical articles for the turret. Together, the two companies have agreed to produce approximately 80 articles at the Belusa facility, with more to come. KOVAL SYSTEMS will produce initial articles for the turret, with initial tests planned in Örnsköldsvik, Sweden in 2023.
"Together with our Slovak partners, we are committed to delivering an infantry fighting vehicle equipped with advanced capabilities and digital technology to the Slovak Armed Forces. The CV90 is a high-quality and very successful vehicle in the market that has proven itself through the rigours of combat," said Tommy Gustafsson-Rask, managing director of BAE Systems Hägglunds in Örnsköldsvik, Sweden.
"We believe that this program will benefit the Slovak Army and be a success for BAE Systems Hägglunds, KOVAL SYSTEMS, and our entire network of Slovak suppliers. These valuablenew strategic partnerships will significantly help Slovak industry in the long-term," said Ján Michálek, the Business Director of KOVAL SYSTEMS in Beluša, Slovakia.
The CV90 industrial cooperation program in Slovakia continues to progress. This contract with KOVAL Systems is one of several, which will be signed as the CV90s' network of local Slovak industry partners is finalized. In addition to KOVAL SYSTEMS, ZTS-Special was selected as the complete vehicle assembler on the project, sighing an agreement with BAE Systems Hägglunds in December 2022.
Other members of the industrial network include, Ray Service s.r.o. for the development work and production of electrical components and sub-systems; and Aliter Technologies a.s, whose scope within the command, control, communications, computers, and intelligence (C4I) domain is being defined with BAE Systems Hägglunds.
BAE Systems' proven industrial cooperation program is built on local partners playing a high-value and strategic role in the development, production, training, and support of the CV90 and its numerous variants. In Slovakia, this strengthens industry and also increases the security of supply for the Armed Forces. The growing network of industrial partners across Slovakia will ensure that local industry plays a critical role in the service, maintenance, and future development of CV90s.
The Slovak Army will receive the newest iteration of the CV9035, known as the CV90 MkIV, with the latest advanced capabilities and digital technology to meet the needs of the evolving battlefield.
Contact
Ola Thorén
Director, Communications
BAE Systems Hägglunds
Office: +46 660 80506
Mobile: +46 708 335000
View source version on BAE Systems :
https://www.baesystems.com/en/article/bae-systems-signs-contract-with-slovakias-koval-systems-for-cv90-production