Last Update
March 27, 2020

Categories
Electrical, Electronics & Electro-optics
Mechanical, Electro-mechanical, Hydraulic and Pneumatic components
Verolme Elektra, is a medium sized, privately owned company, founded in 1957 and specializes in the design, development, supply and support of electro-mechanical systems, such as cable harnesses, test stands and ground support equipment. Verolme Elektra's customer base consists of respectable defence, aerospace and industry organizations, both in the Netherlands and abroad.
The company's experienced and knowledgeable personnel in engineering, project management and production, its well equipped production facility and motivated staff form the basis of an effective, flexible organization and reliable products.
Verolme Elektra BV aims to:
Supply superior tailor made products, in conformance with customers' expectations.
Focus on customer satisfaction by continuously improving all aspects of product reliability, project management, quality, competitive pricing and after sales service.
Invest in long-term win-win partnerships with customers and suppliers.
Invest continuously in personnel capabilities,human relations and the latest technological development.
Participate in new large European military development programs.
Delivering high standing quality.
VEROLME ELEKTRA has the following certifications:
ISO 9001:2008
AQAP-2110 edition 3:2009
IPC WHMA-A-620
MARKETS
MILITARY MARKET
Verolme Elektra's own built or built-to-print products are or have been used in the following products:
Main battle tanks
Armoured vehicles
Light infantry vehicles
Rocket systems
Shelters
Communication systems
Field equipment
Current, past and future projects Verolme is involved in:
Leopard I & II Main Battle Tank
PzH2000
M109/M113/YPR
Fennek
Dardo Hitfist
MOBAT
CV90
Boxer
AEROSPACE MARKET
Verolme cable harnesses and electro-mechanical sub assemblies are used in galley's; galley equipment; crew rest rooms, ground support equipment and small testing devices. Verolme is working directly or indirectly for OEM like BOEING and AIRBUS and for MRO companies such as Fokker and KLM.
CIVIL MARKET
In the civil market the cables harnesses and special assemblies are used under the most extreme circumstances.
Examples are :
Cables for shock absorbers for trains
Wind speed indicators
Cables for luxury yachts
Cables for diesel engines
Switch boxes for machinery
CABLE HARNESSES
Verolme Elektra BV can assist customers in the conceptual design, software development, in-house production and certifications of special cable harnesses and systems.

As a military and aerospace supplier, Verolme Elektra BV is accustomed to complying with military requirements and supported by the most modern production facilities. Over the years Verolme Elektra BV has become very skilful at finding effective solutions for special requirements.

Verolme Elektra is fully equipped to perform special tests on cables and components: environmental testing, stress testing, bend testing and vibration testing are performed in house.
DESIGN
Verolme Elektra BV is fully capable of designing the specific harness suitable to customers' needs. Based on their program or demands and based on existing hardware, cables and wiring the company is able to find the most suitable and cost effective solution.
PROTOTYPES
Based on the design Verolme Elektra will engineer a prototype in accordance with the specifications. This model can either be fully tested by the company's fully equipped test department or it can be tested by customers.
BUILT TO PRINT
Verolme Elektra's flexible, well trained, certified production team is capable of producing from prototypes, small series up to series of thousands per piece. The company has the right equipment for every job and every type of quantity which enables them to manufacture high quality in an economical and cost-effective way
TYPES OF CABLES
Wiring harnesses
System cables
Coaxial cables
Radio cables
Cables with shielding
Internal wiring harnesses
Special purpose cable
Power cables
Proto type cables
TEST STANDS
TEST STANDS AND GROUND SUPPORT EQUIPMENT
For over 25 years, Verolme Test Stands B.V. has supplied test stands and ground support equipment to satisfied customers in the civil and military aerospace industry.
Verolme Test Stands has in-house engineering capabilities for hydraulics, pneumatics, electrical, electronics, software-development and mechanical construction.
All products are built to customer specification and optimized for the specific tasks required.
Over the years the company has successfully developed and delivered test stands for the following components:
Fuel pumps, controls, governors, flow divider valves, fuel nozzles, heat exchangers
Hydraulic pumps and motors, actuators, valves, servicing trolleys
Lubricating oil pumps, coolers, temperature control valves
Pneumatic starters, anti-icing systems, high pressure, vacuum, ventilation systems
Electrical AC and DC generators, inverters, CSDs, solenoids
Remote indication, high-voltage ignition, temperature amplifiers, supervisory equipment
Altitude media temperature sensing devices, pressure switches, transmitters
Electro hydraulic servos
Hydraulic multi station power supplies
Production of new test equipment as for example:
Fuel Test Stands
Hydraulic Test Stands
Pneumatic Test Stands
Electrical Test Stands
Generator Test Stand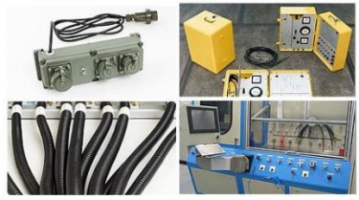 UPGRADES
TEST STAND UPGRADES

Verolme Test Stands also provides upgrade packages for existing test equipment. This can involve adding new components to the capability of existing test stands, providing special tooling and fixtures or upgrading existing test stands to the latest standards and regulations (i.e. environmental, safety or noise reduction). Verolme Test Stands can also upgrade manually operated test stands with automatic handling facilities and add automatic data acquisition functions.
Provide an upgrade package on existing test-equipment such as:
Adding new components to the capability of existing test stands
Special tooling and fixtures
Upgrading existing Test Stands to the latest standards and regulations
Upgrading with regard to environment, safety and noise reduction
Upgrading manually operated Test Stands with automatic handling facilities
Adding automatic data acquisition
Special Expertise:
Putting Test Stand expertise in Ground Support Equipment
Combining capabilities in multi-functional products
Adapting the design to specific customer requirements
Focus on user friendly designs
Maintenance, and delivery of spare parts for existing test equipment
Verolme Elektra B.V.
Elektraweg 5 3144 CB, Maassluis, The Netherlands
+31(0)10 591 30 33
+31(0)10 591 91 57
defence@verolme-elektra.nl