Last Update
July 18, 2022

Categories
C4I, Communication Systems
Electrical, Electronics & Electro-optics
IT, Computing and Software
Radar, Sonar, Navigation, Targeting, Surveillance
RETIA a.s., was founded in Pardubice in 1993 so that we can trot out with a more than 16 years - tradition, which is unique and rare within Czech context.
RETIA is one of the leading Czech companies in the field of military electronics, weapon system modernization and radar technology, development of C4I systems and software equipment. Within more than 16 years of existence RETIA has attained a dominating position on the market of recording systems for call centres, contact centres and telecommunication operators in Czech as well as in Slovakia and has become significant all-European supplier.
RETIA offers to its customers complex services at a high professional level. The company produces functional demonstrators, prototypes, serial products and also installs all the above-mentioned equipment. RETIA provides advisory and design services as well as training of operating personnel and both in-warranty and after-warranty services.
Contact info #1
Sales & Marketing Manager
Prazska 341, Zelene predmesti, 530 02 Pardubice, Czech Republic
DEFENCE SYSTEMS - RADAR MODERNIZATION
P-18 (Spoon Rest)
The P-18 radar is a 2D mobile long-range early warning radar operating in VHF frequency band. VHF frequency band brings two main advantages, ability to detect stealth targets and inability of anti-radiation missiles seeker to detect such radar (VHF antenna with sufficient angular resolution simply does not fit into missile body).
Despite of highly reliable simple mechanical construction, original radar that is equipped with outdated electronics cannot fulfill today's requirements, mainly in point of operation automation and radar networking capability. The following modernization is necessary to overcome the aforementioned deficiencies:
Radar signal processing

Up-to-date display

Radar data output

Up-to-date IFF system

Improvement of system reliability
P-19 (Flat Face)
The P-19 radar is highly mobile early warning system designed for low level and "Stealth" targets detection and tracking. The original obsolete electronics however makes impossible to utilize its potential technical and tactical capabilities.
Offered P-19 radar modernization overcomes both technical and technological barriers of the original system. The signal processing digitization enables automatic target detection, extraction and data transfer to a radar network or linked command and control centre. The installation of the IFF interrogator (Mark XII NATO standard) and a local monitoring and control console completes basic range of the modernization.
P-37 (Bar Lock)
P-37 surveillance radars are still in service in many countries. Obsolete original electronic blocks and inaccessibility of same components cause a number of problems. Some characteristics of this robust, environmentally resistant and reliable system make foundation for radar lifetime extension however radar modernization is necessary for more P-37 radar utilization.
PRV-17 (Odd Pair)
Original PRV-17 radar heightfinder is analogous system with manual antenna azimuth turning control only.
Modernization improves system by:
Solid-state RF amplifiers with STC

Automatic digital 3D extractor

SW algorithms for target coordinates determination

Automatic remote (/local) control of antenna azimuth position

Radar data output into multi-radar network

ON-LINE and OFF-LINE diagnostics of new units
ST-68 (Tin Shield)
The ST-68U is mobile 3-D medium range air surveillance and missile control radar. Original, fully coherent system is not equipped with suitable data output to standard C3I centers suitable standard IFF system is missing as well.
The system is after modernization extended about:
Up-to-date IFF interrogator

Digital interface for narrow band radar data output

New local and remote monitoring and control consoles SRCC and LMCC iaw

EUROCONTROL recommendation

New low noise RF amplifiers in all channels of primary radar
SAM SYSTEM MODERNIZATION
SA-6 "Gainful" (KVADRAT)
Original SA-6 SAM system (2K12 KUB / KVADRAT) is a mobile short range Surface to Air Missile system that consists of missile launcher vehicles SPU and radar vehicle SURN. All vehicles are based all-terrain tracked chassis. SURN system performs searching function, low altitude acquisition, target tracking and semi-active missile guidance.
SA-6 system modernization eliminates original system limitation consequent on outdated technology. All obsolete equipment and components with limited availability are replaced by modern, high performance and latest standards compatible subsystems.
The modernization of SA-6 system enables an interoperability with up-to-date AD C&C systems, increase system combat performance and reliability.
SA-13 "Gopher"
The SA-13 "Gopher" (S-10 Strela) is self-propelled VSHORAD surface-to-air missile system, intended for firing of the low/medium-level air targets. Manual operation and original incompatible communication, navigation and identification means make impossible to fulfill today's requirements imposed upon this kind SAM systems.
Submitted modernization consists of:
Up-to -date radio and line communication interface to link system with any C4I

Center

Commander terminal

Automatic target handover into missile fire

Control system

Up-to-date IFF Mark XII interrogator with new antenna

Hybrid INS/GPS navigation system
SA-8 "Gecko"
SA-8 "Gecko" (9M33 OSA AK/AKM) is a mobile short range SAM system with command missile guidance. System employs all sensors and missile launcher on one amphibious off-road vehicle.
The highly appreciated efficiency of SAM system based on extremely high mobility and performance of missiles suffer from aged radar electronics and lack of integration into AD command systems.
The severest limitations of original system are:
Outdated communication subsystem

Obsolete radar signal and data processing

Lack of electronic protection functions (ECCM)

Limited capabilities of analogue indicators

Incompatible IFF system

Low reliability
IFF INTEGRATION
Integration of IFF interrogators
RETIA, a.s. offers integration of IFF MARK 12, MARK 10 standard interrogators into radar and weapon systems namely MANPADS, VSHORAD, SHORAD, middle and long range. RETIA, a.s. has worked out a design system that comprehensively solves installation of the IFF interrogator on the radar or weapon system platforms.
The integration covers:
Interrogator installation

IFF antenna

Necessary data interface

Cabling

User tailored data processing for data reception, combination, evaluation and distribution

BITE

IFF Antennas
RETIA, a.s. offers whole range of modern, STANAG 4193 and ICAO Annex 10 compliant, IFF interrogator antennas. The RETIA IFF antennas are in service with armies of the Czech and Slovak Republic.
Elaborated procedure for user tailored design includes:
Location of the antenna on the platform

Physical antenna design

Antenna development, manufacture and installation

Field test of the installed IFF interrogator
C4I2 & C4ISR Systems
RACCOS
The automated system RACCOS is a mobile communication and information system designed for the command and control of Air Defence units namely on the sites of the AD units as well as during their movement.
RACCOS provides effective information necessary for superior posts, subordinate and coordination units, and creates solutions that increase the efficiency of the AD system. The air picture information and data of combat activity control are transferred in the real time, other command data transfers are realised with a minimal time delay. RACCOS is a fully digitised and highly automated system with minimal demands on the crew. Many operations are processed on the background, without necessity to be displayed.
ReWET: Weapon Terminal
ReWET serves as interface for Short Range AD Weapons (V-SHORAD and MANPADS with different levels of automated control and missile guiding capabilities) interconnection with various Command Control Centers and Fire Distribution Units. Voice communication should be likewise secured using several methods and means.
Weapon terminal ReWET is based on a rugged portable computer that communicates with the Command Control Center by means of a radio set or metallic link. The terminal service is provided by the team commander, who controls the weapon operator.
ReTOB: Air observer apparatus
ReTOB is designed for passive target detection and coordination measurement in areas, which are not covered by the radar means, especially targets moving below the horizon. Retrieved 3D information about the detected targets is transferred to CCP.
The Air observer apparatus consists of a tripod with connected sensors, a rugged portable computer that communicates with the Command Control Center by means of a radio set or metallic link. The ReTOB is operated by only one operator.
ReDIN: Digital internal communication system
The system is designed for vehicles, shelters, cabins or structures to enable voice communication between members of the crew as well as communication with remote superior or subsidiary command level through Tactical Radios. Digital design makes system very flexible and versatile. System consists of 2-8 nodal points for different purpose and can be combined with Communication computer for reasons of concurrent voice and data communication with remote centers.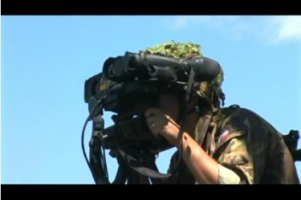 Product informational files
CUSTOMERS
MOD of the Czech Republic
Slovak Republic
Finland
Vietnam
Military Resarch Institutes of the Czech Republic
Retia a.s.
Prazska 341, Zelene predmesti, 530 02, Pardubice, Czechia
+420 466 852 111
+420 466 852 133
military@retia.cz