Last Update
September 1, 2017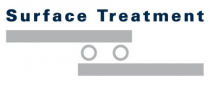 Categories
Metal Processing, Parts & Components
Since 1978, Surface Treatment B.V. has specialised in the development and application of high-quality, high-tech surface treatments for aluminium products for industrial applications. The company has over 90 employees, at two locations. Everything they do revolves around the customer: starting with their specific wishes or ideas the company develops concrete, practical custom solutions.

Certifications
Surface Treatment possesses a range of quality certifications, including ISO 9001-2008, AQAP-2110, AS9100 and NADCAP.

Laboratories
Surface Treatment has its own laboratories with extensive chemical and physical control facilities. They have everything in place to ensure the quality of their processes and continuous improvement, including:
Various chemical analysis methods
Preparation of cross-sectional samples for further analysis
Microscopic analysis
Various methods for the determination of hardness, wear resistance, chemical resistance, breakdown voltage and gloss
Spectral analysis of base material
ICP spectrometry for determination of elements at the ppm level
Surface Treatment is active in the following markets:
Semi-conductor industry
Defence and aerospace industry
Automotive
Machine building
CHROMATE CONVERSION COATINGS
By means of chromating a thin chemical conversion coating (transformation of basic material to other chemical matrix) will be applied on the product. These coatings give a temporary or final preservation of the aluminum surface. Chromate coatings are intensively used to guarantee a good adhesion for paint applications.
Other often-used descriptions are chemical film, chem film or alodine.
The last name has been subtracted from the chemical trade name "Alodine", a product that is often used to apply these coatings. Chromate conversion coatings have a generally uniform, iridescent light- to dark-gold appearance.
The process provides corrosion prevention coatings that are far beyond the characteristics of bare aluminum.
Services informational files
CHROMIC ACID ANODIZING
Chromic acid anodizing is an electrochemical-applied coating with the following specific characteristics:
1. Fatigue-strength of the base material will not be affected (in contradiction to sulfuric acid anodized coatings).
2. Resident rests of electrolyte will have no harmful effect concerning corrosion of aluminum. This should be involved as a great advantage for assembled parts where a 100 % removal of electrolyte cannot be guaranteed.
3. Best pretreatment procedure for parts that have to be assembled by means of adhesives.
The coating performs better corrosion protection than chromate films.
General thought as the best pretreatment for paint adhesion (anodic coating can best be not sealed).
Chromic acid anodizing can best be applied where optimal corrosion resistance is required and sulfuric acid anodizing is technical not responsible.
Services informational files
TECHNICAL SULFURIC ACID ANODIZING
By anodic oxidation the aluminum surface is transformed to an aluminum oxide coating.
The anodic film has excellent adhesion to the substrate, as it is an integral part of the structure in contrast to; say a painted or electro-plated part.
Coatings provide an enhancement in properties over the base material particularly in respect to wear and corrosion resistance and for electrical insulation.
Normally sulfuric acid coatings are sealed to improve the corrosion resistance of the film.
Generally speaking, the surface finish of the original part is reproduced with slight roughening. Any defects such as corrosion or polishing "burns" will be emphasized rather than hidden.
Services informational files
HARD-COATINGS
Coating shall be used when optimal characteristics concerning the following properties are required:
1. Hardness (till 750 Micro Vickers Hardness).
2. Abrasion resistance.
3. Corrosion resistance; hardcoatings have smaller pores in relation to sulfuric acid anodized layers.
When corrosion resistance is about the primary function coatings must be sealed (shall be indicated on drawing or purchase order).
Good dielectric properties (breakdown voltage till 1200 V).
4. Heat resistant coating (shortly 2000 °C)
5. Hardcoatings are primary used for industrial applications.
Hard anodizing is mostly applied in a sulfuric acid based electrolyte with additives to minimize porosity thus achieving a harder finish coating.
Hard anodizing can be formed on all aluminum alloys but the purer the alloy the harder the coating. Since the coating builds at different rates on each alloy, it is important for the anodizer to know the specific alloy. Some alloys require different procedures and if the alloy is improperly identified, there is a possibility of damage to the part.
Coating globally penetrates base metal as much as builds up on the surface. The term thickness includes both the buildup and penetration.
The color of the coatings is darker as with sulfuric acid anodizing and will vary from light tan to black depending on alloy and thickness.
Therefore hard anodizing with a uniform color is extremely difficult.
Seen the relative low thickness of the coating the only good hardness indication shall be performed by Micro Vickers measurement. Here for a square sleeve sample shall be prepared on which microscopic hardness measurement is executed.
Services informational files
SURLON-COATINGS (INTEGRATED COATINGS)
SURLON-coatings are integrated coatings of which both name and procedure are patented.
The Surlon processes provide a permanent dry lubricating surface combined with hardness. By leveling off the surface asperity with Surlon, surface energy is drastically reduced and lubricity greatly increased.
Surlon-coatings can be applied on basis of sulfuric acid anodized layers or hardcoatings.
Furthermore it's possible to dye the coatings although this is not recommended.
In the latter case the porous structure of the anodize-layer is both used to impregnate the dyestuff as well as the Surlon.
Sulfuric acid anodizing in combination with Surlon is suggested/applied when:
• Very good lubricating properties are required.
• Excellent non-stick surface is needed.
Hard-coatings based on Surlon are applied when:
• Good lubricating properties are required.
• Good non-stick surface is needed.
• For excellent abrasion resistance.
Services informational files
APPLICATION OF LACQUER SYSTEMS
From the start the painting facility has been designed to coat aerospace parts.
In combination with an optimal pretreatment Surface Treatment is capable to apply almost any liquid lacquer-system.

Of course we have facilities to force drying or bake the applied films.
At this moment the following coatings are applied:

• Wash-, epoxy and polyurethane primers.
• Diverse epoxy, polyurethane en alkyd topcoats.
• Adhesive primers.
• Teflon coatings.
• DAG coatings (used for EMC applications).
Properties
It may be clear that the property of the coatings depend on the applied lacquer-system.
The adjusted application of pretreatment, primer and top-coat can provide a secure corrosion inhibiting surface treatment.
Most applications are originally of technological means; applying a proved paint-system to solve a manifest problem.
Approvals
• Boeing
• British Aerospace
• DASA
• Fokker
Copper plating Euro coins
Since half 1999 Surface Treatment produces copper coins (1, 2 and 5 Eurocent).
With the European common currency in place we faced to a particularly exciting challenge; turning steel into money. Using a fully enclosed PAL barrel line with a raft of state of the art features, steel blanks are turned into sparkling Eurocent coins.

The first customers were the Dutch and Italian Mints, but more recently coins have been produced for Belgium, Austria and Luxemburg.
Steel blanks can be supplied by the Mints, increasingly though we are buying in the blanks to make life simpler for customers.
Well in excess of a staggering 2.000.000.000 coins have gone through the treatment.
Once plated, the shining disks go off to the relevant Mints to be stamped and turned into usable coins.

When working flat out, roughly sixty thousand coins come off the line every hour.
Working 24 hours a day and 7 days a week, the average weekly yield of the machine is 10 million coins.
Surface Treatment Nederland B.V.
Visiting Address: Hazenspoor 16 6051 AB, Maasbracht, The Netherlands
+31 (0)475 463835
+31 (0)475 464635
info@surfacetreatment.nl