Last Update
October 21, 2020
Categories
Electrical, Electronics & Electro-optics
CI Systems was founded in 1977 to commercialize advanced infrared (IR) remote sensing technology. Shortly after the company was founded CI became the leader in infrared spectroradiometry for remote sensing of the atmosphere, signature analysis and ground truth measurements.
In the 80's CI Systems grew to include two divisions. The Electro-Optics (E-O) division develops and commercializes MIL-Standard E-O precision test equipment for all stages in the product life cycle including airborne built-in test equipment. Its products range from standard off-the-shelf instruments to customized electro-optical test systems. The semiconductor division develops and commercializes optical monitoring equipment for wafers and photovoltaic solar cell manufacturing. Its products include noncontact temperature monitors and liquid monitoring systems.
CI Systems has facilities for R&D, production, customer support and sales in Simi Valley, California and Migdal HaEmek, Israel. In addition CI has a sales service and support facility in Paris, France. CI Systems employs 150 workers, including a large percentage of physicists, chemists and engineers. The company sells in most Western and Far Eastern countries through agreements with local sales representatives.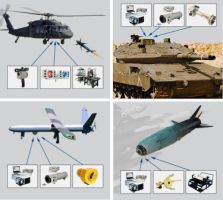 Electro-Optical Test Systems
CI provides test benches (or stations) for Electro-Optical (E-O) systems composed of multiple sensors (or channels). These benches are built to provide a comprehensive turnkey solution for all the sensors' testing needs of the E-O system in question. These stations are based on MIL-Standard test equipment that can be used in all stages of the UUT's life cycle. All or some of the tests listed below can be performed by a single E-O turn-key station.

FLIR Camera Testing
CI Systems' FLIR turn-key test stations carry out all the necessary tests to verify and compare the quality of an infrared/thermal camera. The FLIR test systems are based on CI Systems' NIST traceable blackbody radiation sources, collimators and special thermally controlled targets, designed to provide very accurate IR test patterns. All these combine to project standardized targets with known geometry and intensity to the Unit Under Test(UUT).

SWIR Camera Testing
CI systems' SWIR turn-key test stations simulates low light conditions to test special application cameras. An intuitive user friendly software carries out a variety of tests. The test stations are radiometrically calibrated to perform comprehensive SWIR tests.

Day Camera Testing
CI Systems' CCD test stations are used to carry out all the necessary tests to verify and compare the quality of a CCD based camera. These stations are based on CI Systems' reflective collimators, Visible Radiation Sources, special targets and integrated software, to project standard patterns with known geometry and intensity to the Unit Under Test. As a result, these stations are turnkey solutions for the CCD camera testing needs.

Laser Testing
CI Systems provides a wide range of laser testers, whether stand-alone systems, such as Depot Field Laser Tester, Depot Laser Tester or integrated in a multi-sensor electro-optical test bench. These testers can also be integrated with CI Systems' standard Laser Tester software and PC package to serve as the necessary testing tool for a larger system comprising a Laser Range Finder, Laser Marker and Laser Designator.

Detector Testing
CI Systems' Optical Test benches are especially built to test many types of detector arrays used as the sensors of a camera, from visible to far infrared ranges. With CI Systems' expert know-how, these test benches can be tailored to a customer's design requirements. MTF, spectral response, crosstalk, NETD and sensitivity are some of the basic parameters that can be tested with CI's Optical Test benches during the design, manufacturing and integration of detector arrays.

Boresight Testing
CI Systems provides different types of boresighting capabilities, such as
Line of Sight Boresighting
Mission Ready Boresighting
Mechanical to Optical Alignment
Missile Warning System Testers
CI Systems provides a wide range of Missile Warning System (MWS) testers that can accurately simulate approaching threat signatures in the IR / Dual IR / UV /SWIR wavebands. These test systems can also test the MWS evaluation and acquisition of targets, tracking, and the performance of countermeasures. Also available is an infrared target simulator that projects an IR scene (background, target, and flare).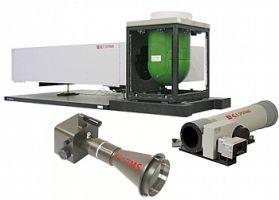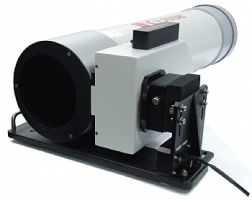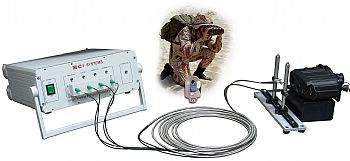 Remote Sensing
CI Systems has been producing and selling infrared radiometric and spectroradiometric products since 1981 for Remote Sensing applications. This instrumentation is useful to measure self-emission of objects as function of wavelenegth or time in calibrated radiometric units.

The wavelength dependent information is obtained in CI's models by using interference filtering technology, providing full spectral information through Circular Variable Filters or at a number of wavelengths through discrete filters.

SR-5000N Spectroradiometer
The SR 5000N is a high end, top-of-the-line spectroradiometer allowing advanced work in object characterization through radiometrically calibrated infrared spectral signatures. CI Systems provides the complete solution to the spectral IR signature applications by offering also the calibration equipment needed to achieve the relevant data.

Radiometric Products
CI Systems' single channel and multiple parallel optical channel radiometers provide simultaneous information at different wavelengths. They are cost effective solutions for more specialized applications and for time varying phenomena.

Atmospheric Transmission Measurement System
The Atmospheric Transmission Measurement system is designed to provide spectral measurements of atmospheric transmissions up to a distance of 6 km. The spectral measurements are taken in the range of 0.4 – 14.0 μm utilizing a SR-5000N spectroradiometer and a source. The unit is portable and may be deployed on a tripod in a laboratory or in the field.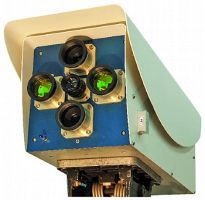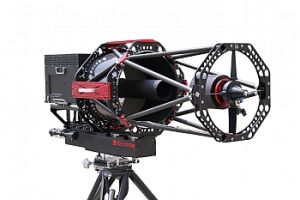 Black Body Radiation Sources
CI systems specializes in manufacturing blackbody radiation sources for over 35 years. During this time CI Systems gained experience in designing high emissivity blackbody radiation sources with superior temperature accuracy and surface uniformity. The large range of aperture sizes with the removable temperature sensor for shorter periodic calibrations make CI Systems the choice of many customers. Choose a blackbody radiation source from the list below or contact us for your custom requirement.
Black Body Radiation Sources: SR800 and SR200
The SR800 and SR200 series blackbody radiation sources are used in testing and calibrating thermal imagers. They can be setup to operate as a standalone source or can be integrated into an Optical Test Bench based on a either a METS or ILET Collimator for performing electro-optical test qualification of the thermal imager. As a calibration tool the thermal imager defocused and is positioned in front of the blackbody radiation source where it is used to perform a non-uniformity calibration of the imager. When the blackbody radiation source is integrated as part of an optical test bench automated testing with CI Systems Computerized Test Executive Software, CTE, can be performed to determine the operational characteristics of the thermal imager, or Unit Under Test, UUT. With the blackbody radiation source and VIS-SWIR based Integrating Sphere source combined in the the test bench, multi-sensor/imagers can be tested as well as boresight measurements done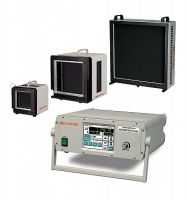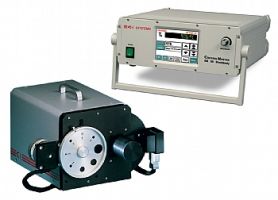 Collimators
CI Systems' collimators accurately project patterns of radiation as if coming from a large distance (infinity) to test the performance of IR imaging systems (FLIR's). The integration of a collimator with blackbody sources and a target wheel on its focal plane creates CI Systems' FLIR testers series.These FLIR testers are available in standard sizes to satisfy the test requirements of most sensor systems. Additionally, the collimators modular design allows easy customization of components. Contact us for built-to-specification collimators and FLIR testers.
Capabilities
Pod and Payload Testing
Multi-purpose FLIR/Laser/CCD testing
Boresight Between Line of Sights
Depot Level Testing
Flight Line Testing
E-O Testing
FLIRs
Day sights
Laser range finders
Laser designators
CCD cameras
MTF for optical components
Detector testing
Boresight testing
E-O Simulators
Envelope of performance simulators
Missile approach simulators
IR dynamic scene projectors
E-O Missile Testing
Day seeker testing
IR seeker testing
Envelope of performance simulators
Missile approach simulators
Remote Sensing
Spectroradiometry
Radiometry
Spectral imaging
CI Systems Ltd.
P.O.Box 147, 10551, Migdal Haemek, Israel
+972 4 644 8888
+972 4 654 3570
market@ci-systems.com