Last Update
September 14, 2018
Categories
C4I, Communication Systems
IT, Computing and Software
DOLPHIN INTERCONNECT SOLUTIONS, provides a variety of high performance products to solve the needs of financial, e-commerce, entertainment and embedded customers. These products enable customers to build and deploy faster more reliable systems.
Dolphin has a deep experience in developing leading and innovative computer interconnect technology. Since the early 1990's the company has been instrumental in the development of many of the industries most important standards including PCI, SCI, StarFabric, and PCI Express.
Dolphin has supplied its interconnect products to major industry players including Siemens, Philips, Sony, Sun MicroSystems, Lexmark, Boeing, and Thales Dolphin Interconnect is headquartered in Oslo, Norway. US operations are located in Marlborough, Massachusetts. Dolphin maintains sales offices in Boston, Los Angeles, Oslo, Germany and France and is represented internationally by a network of resellers, distributors and integrators.
Dolphin has implemented and maintains a Quality Management System which fulfills Nemko's provisions for Management System Certification and the requirements of the NS/EN ISO 9001:2000 standard. The certificate covers the following activities: Research, development, marketing, sales, distribution and support of advanced information technology products.
Contact info #1
Olaf Helsets vei 6 NO-0694 Oslo, Norway
Contact info #2
Olaf Helsets vei 6 NO-0694 Oslo, Norway
DOLPHIN SOLUTIONS
Dolphin develops solutions to eliminate system bottleneck related to communications or storage, thus allowing applications to reach their performance potential. Dolphin offers solutions for various industries ranging from Defense to Entertainment that demand the highest levels of performance.
Database optimization and acceleration products
Solid State Storage Solutions
Embedded Interconnect products for PCI and PCI Express Solutions
PCI Express based interconnect solutions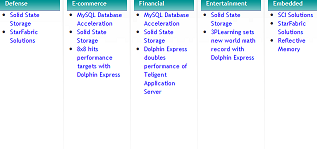 HARDWARE AND SOFTWARE PRODUCTS
Products range from high speed solid state storage with StorExpress products to chip level PCI interconnect products with StarFabric. All products are designed as complete solutions including both hardware and software.

• DX Series products - high speed switched interconnect products for connecting servers and providing PCI Express Expansion

• D Series products - high speed flexible interconnect products based on SCI that can connect multiple servers in a clustered environment. D Series supports tourus and ring topologies

• StorExpress products - high speed solid state storage that ranges from .5TB to 4TB of NAND flash based storage.
• Software products - optimized software for database and embedded applications. SuperSockets provides a transparent highly optimized sockets interface to D and DX products for databased and other sockets applications. Embedded tools provide a solution for customers building high performance reflective memory or other performance oriented solutions.

• StarFabric- PCI serial switch fabric provides a switched serial solution for customers using PCI in their systems. StarFabric features high end functionality for PCI Expansion and processor to processor communications. This functionality can be accomplished with low cost highly flexible cabling.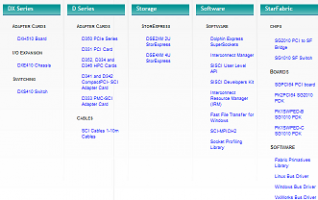 Dolphin Interconnect Solutions
Nils Hansens vei 13, NO-0667, Oslo, Norway
+47 24 07 62 10
info@dolphinics.com