Last Update
January 23, 2023
Categories
Electrical, Electronics & Electro-optics
IT, Computing and Software
Radar, Sonar, Navigation, Targeting, Surveillance
Services (R&D, training, engineering, consultancy, …)
Weapons & Ammunition
Noptel, specializes in the design and manufacture of innovative optoelectronic products based on its own focused technological know-how in the measurement of distance, position, displacement and shape. The products use highly integrated technology, and a number have been patented.
Quality of the products and services is one of the key principles of Noptel's strategy. It means thorough planning and manufacture of products incorporating the latest technology and comprehensive, long-term user support to help the customer to gain full satisfaction from the products.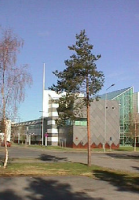 Contact info #1
matti.tervaskanto@noptel.fi
Teknologiantie 2, 90570 OULU, Finland
SHOOTING TRAINING SYSTEM
ST-2000 PistolTrainer
ST-2000 PistolTrainer is an indoor marksmanship training and analysis unit attached to a service pistol Picatinny rail or rail adapter. The actual target distance starts from 3 to 50 meters (54 yards). Shots can be generated by dry firing or CO2 -recoiled. With continuous training you can improve and maintain your shooting skill and gain confidence in real situations.

ST-2000 Marksman
ST-2000 Marksman continues the heritage of Noptel´s famous ST-2000 product family originating in the early 1990´s. While maintaining the excellent accuracy and reliability of its predecessors, the Marksman is designed to be even more compact and user friendly for professional training. We have put over 25 years of experience into a superior package which corresponds efficiently with the objective of improved and up to date weapon training.

ST-2000 MilTrainer
ST-2000 MilTrainer is a marksmanship training and analysis device designed to be used outdoors. The real shooting distance is from 10 to 300 meters. Several shooters can be connected simultaneously to a single PC. The instructor can easily monitor the training of an individual shooter or the whole group. Concurrent use of blanks is also possible.

ST-2000 Sniper
Noptel ST-2000 Sniper is designed to be used for long range shooting training and analysis in genuine environment. The operating principle is the same as that of Noptel ST-2000 MilTrainer.

NOS4 training software
The original shooter training software - NOS4 - is the most professional, in depth analysis software ever made. Designed especially for demanding professional use. It is a typical Windows software product which is highly illustrative and versatile. It operates in several languages and covers all the common disciplines. New disciplines can be edited in with the special Gun & Target editor.
ST-21 Fighter
The Fighter system is an optimal system for small-scale action shooting training, allowing quick, easy setups with a variety of pop-up and turning targets. The simplicity of the system allows efficient training any time and anywhere.

ST-21 MiniFighter
The Noptel ST-21 MiniFighter is a member of the Noptel family of field training products. The MiniFighter is designed to fulfil the requirements of pop-up target training both on a shooting range and in urban area. Small size and light weight makes it practical trainer for pistols and other small arms.
Product informational files
NOPTEL CM3 DISTANCE SENSORS
A family of light-weight distance measurement sensors for indoor and outdoor use. Based on time-of-flight technology, allowing fast measurement of distances from natural surfaces. Small size, highly integrated technology.
Applications
Traffic control
Industrial measurements
Positioning
Security measurements
OEM applications
Portable measurement
Product informational files
RANGE FINDER MODULES
Noptel has developed a range of integrated modules for the measurement of distance using time-of-flight technology. The modules and circuits are in use in many products and many application areas. The parts can often be used as sub-modules for a product under development, making the required development work more straightforward and reducing the time required to finish the work. This approach also gives the benefits of mass manufacturing, as the same parts can be utilized in several products.
Typical characteristics
Precision of a few millimetres
Measurement rate up to 25 kHz
Maximum range of several tens or hundreds of metres, depending on the precision needed
Small size, low weight, low power consumption
Suitable for harsh environments
Highly integrated technology (ASICs, hybrids and surface-mounted components)
PSM-200 DISPLACEMENT SENSOR
The PSM-200 measuring device has been developed especially for measuring the position of a working machine. It is based on a laser transmitter and an optoelectronic receiver connected to the target. The operator directs the safe, visible laser beam at the receiver and locks it in a steady position. The receiver recognizes the beam on the optical target and measures its position accurately up to 500 times a second.
Applications:
Traverse line of a vehicle
Displacement of the target
Deflection of a bridge
Alignment of a bar
Vibration of a bridge, mast or tower
Bending of a bar
Product informational files
PSM-R/M2 DISPLACEMENT SENSORS
The PSM-R/M2 measuring devices are meant for long distance displacement measurement applications outdoors. It is based on a combined led transmitter and an optoelectronic receiver which measures the movement of the reflecting target attached to the object to measure. The operator directs the safe light beam at the receiver and locks it in a steady position. The beam is reflected from the target back to the receiver where the receiver recognizes it and measures its position accurately up to 100 times a second.
Applications:
Displacement of the object
Deflection of a bridge
Alignment of a bar
Bending of a bar
Product informational files
RAILTRACER
RAILTRACER is a measurement system for rail machinery. It has been especially developed for use with tamping machines for measuring the alignment of rails in accordance with specific guidelines, but it is also used with coaches, cranes and lightweight trolleys to measure the vertical and horizontal position of the rails.
The system employs the PSM-200 laser position measurement device to access the position of the rail in the horizontal and vertical planes using a receiver connected to a part of the vehicle, which is in direct contact with the rail. The system can be installed to many types of machinery and does not require additional automation.
The system can be used during the rehabilitation operation or to measure the rail position in order to plan operations in advance or inspect the result of the work afterwards.The laser beam of the transmitter can either be fixed or sweep over the receiver area in a given direction.
A PC allows the operator to monitor the straightness of the line rail graphically in both directions, set values for lifting, alignment and levelling and store measurement data in a numerical file as required.
Applications:
Measurement device for tamping machines
Measurement of crane rails
Measurement of welded joints
Measurement of rail profile
Measurement of rail surface roughness
Product informational files
DISTANCE SENSORS FOR TRAFFIC CONTROL
Noptel's CM2 distance sensor family has been developed for OEM use in applications requiring high-speed measurements of distances from poorly reflecting targets.
These devices represent a perfect choice for intelligent traffic camera triggering, vehicle classification or speed measurement. The units are small in size, light in weight and economical in power consumption, and are suitable for
outdoor use in harsh environments.
Applications:
LPR camera triggering
Vehicle profile measurement
Vehicle classification
Speed measurement
Speed violation control
Portable speed cameras
Traffic light control
Intersection control
Left turn sensor
Signal violation control
Criminal vehicle interception
Vehicle detection
Tunnel entrance control
Product informational files
OPTOELECTRONIC SOLUTIONS
Concept Design

From customer ideas to draft design and use-case analysis including product requirement specifications.

Research Phase

Noptel core competence of optical components and measuring methods is put into work to create specific prototypes.

Mechanical Design

Combination of different requirements for compact, lightweight, sophisticated and environmental proof constructions.

Electronic Design

In close co-operation with mechanical design, we make printed circuit boards using the most suitable components and layouts.
Software Design
Embedded software is needed to bring the product into life, usually together with user friendly measurement and analysis application software.

Product Solutions
The development phases above and manufacture of optoelectronic products is done under ISO 9001 quality control.
Noptel Oy
Teknologiantie 2, FI 90590, Oulu, Finland
+358 40 181 4351
info@noptel.fi