Last Update
March 21, 2017
Categories
Electrical, Electronics & Electro-optics
Photonic Optics Ges.m.b.H and Co, specializes in the development, design and manufacturing of instruments in the following fields of technology like optics, optronics, electronics, and precision mechanics.
It offers products like:
LED Illumination Components:
LED ringlight 66/40
LED ringlight 38/20
LED-spot
LED-Spot 2-arm
LED-backlight Nikon
LED-ringlight 66/80
LED-control unit with segment control for RL 66/80
Switch-mode power supply
Fluorescence illumination:
Fluorescence ringlight
Fluorescent-ringlight with UV lamp
Control unit
Switch-mode power supply
Accessories:
Slot-in filter and filterholder
Remote control
Fluorescence filter for ringlight
Serial interface
Base plate
Additional Products offered by the company includes Modern cold light sources, photonic f1 light source, and telescopes for rifles, night-vision sights, artillery sighting systems, etc.
Company's competencies are precision engineering and optics, electronics, fibre optics and illumination technology.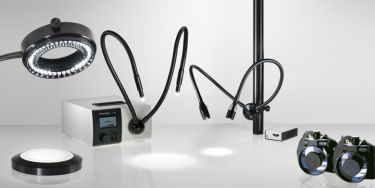 Photonic Optics
1160, Seeböckgasse 59, Vienna, Austria
+43 1 486 5691 0
+43 1 486 5691 33
office@photonic.at