Last Update
September 7, 2016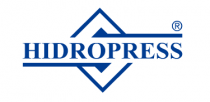 Categories
Composites, Plastics & Rubber
Mechanical, Electro-mechanical, Hydraulic and Pneumatic components
Metal Processing, Parts & Components
Hidropress Ltd. was founded in 1990. At present it is operating in 3 locations with approximately 50 employees.
The scope of company's activities includes:
• Repair, renewal, engineering and manufacture of industrial and mobile hydraulic machines
• Repair, renewal, and assembly of industrial- and vehicle cardan shafts
• Manufacture and assembling of industrial and other hoses
• Trade of hydraulic elements, parts, auxiliaries and industrial hoses
• Service, installation and distribution of central lubrication systems
• Service and engineering of the electric and electronic control of hydraulic units
The company is Member of Egevosz (Hungarian Alliance for Mechanical Engineering of Construction).
Hidropress Ltd.
Zador u. 8, H 1181, Budapest, Hungary
+36 1 297 1640 
+36 1 297 1645 
kozp@hidropress.hu