Last Update
June 28, 2023

Categories
Metal Processing, Parts & Components
Uni Abex Alloy Products Limited, is part of the Neterwala Group and a pioneer and leading manufacturer of centrifugal and static casting in heat, wear and corrosion resistant alloys. Located at Thane, near Mumbai, the company was incorporated in 1972 and has an excellent track record of supplying critical components to a wide range of industries. Uni Abex Alloy Products Ltd is equipped with modern manufacturing & testing facilities. It is backed by superior infrastructure that is the prime reason for its quality output.
Uni Abex is considered as a premier source for heat and corrosion resistant stainless steel casting containing high nickel and chromium conforming to international specifications. The company is ISO 9001 2008 Certified.
TECHNOLOGY
During incorporation, Uni Abex collaborated with Abex Corporation, USA and grew stronger by absorbing the technology and has been catering to the requirements of customers since 1975
In 1992 Uni Abex collaborated with SCHMIDT + CLEMENS Gmbh +Co. Germany and further perfected the art of manufacturing and fabricating various critical components
While Uni Abex has mastered the technology from its technology partners, it has its own in-house R&D, recognized by Department of Scientific & Industrial Research, Ministry of Science & Technology, Government of India.
CORE COMPETENCIES
Pioneer and leader in manufacture of Centrifugal Castings in India.
Manufacturer of Static Castings for Critical Applications.
Specialized in manufacture of Heat, Wear and Corrosion Resistant Alloys
QUALITY OBJECTIVES
On-time delivery of quality products.
Sales growth by developing new markets.
Profitability growth through improved process yield and cost reduction.
Productivity improvement through training and development of employees.
Continual improvement of environment, health and safety standards.
PRODUCTS
Uni Abex Alloy Products Ltd. produces static, centrifugal castings and assemblies in heat and corrosion resistant alloys. Manufacturing quality alloy products is its prime focus. As a leader in alloy steel castings, Uni Abex has made a significant contribution to various industries in the last three decades.
Product range
Refinery, Petrochemical & Fertilizer industry
Reformer tubes/ Catalyst tubes
Harp Assemblies
Hot Collectors/ Headers
Iron & Steel industry
Glendon Coils
ROT Rolls
Normalizing Furnace Rolls
Furnace Manufacturers
Radiant Tubes / Hearth Rollers
Water Cooled Rolls
Sponge Iron industry
Air Injection Tubes
Feed Tubes
Heat Protection Tubes
Galvanizing Plants
Sink Rolls
Stabilizer Rolls
Entry Seal Roll
Valve Manufacturers
Cages / Seat Rings / Balls
Decanter Manufacturers
Bowl Cylinders
Bowl Cones
Conveyor Cylinders
Hubs
Metal Gasket Manufacturers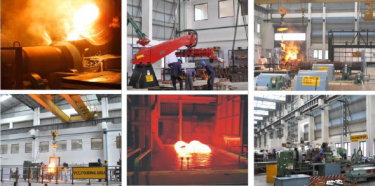 Uni Abex Alloy Products Limited
104, Dhanalaxmi Shopping Centre, Rutu Estate,(Opp. Municipal Commissioner's Bungalow), Patalipada, Off. Ghodbunder Road, 400 607, , Thane (West) - Maharashtra, India
+91 022 41007760
marketing@uniabex.com