Last Update
December 14, 2022
Categories
Aircraft, Helicopter, UAV, Spacecraft & related equipment
Maintenance Repair Overhaul and Logistics Support
Mechanical, Electro-mechanical, Hydraulic and Pneumatic components
Metal Processing, Parts & Components
Services (R&D, training, engineering, consultancy, …)
The beginning of the exciting story of LET, dates back in 1936 when a branch of AVIA Letnany was built in Kunovice to service AVIA planes. During the WWII the company was forced to repair the Junkers W34 and Arado Ar 96b for Luftwaffe and after the war it worked on almost all the types of aeroplanes that were flying in Czechoslovakia.
At the beginning of the 50's begun the construction of a new aeronautical company, which first produced the Russian JAK 11 and the AERO Ae 45 and AERO Ae 145.
In 1957 the company begun to develop the famous L 200 Morava and four years later the Z 37 Bumble Bee, which both brought a huge commercial success. For a period of time LET also produced a light training aircraft L 29.
Over the years LET developed and produced a number of different gliders – Zlin Z 22, Z 124 Galanka, LF 109 Pioneer, Z 425 Sohaj. However the most popular gliders produced in LET are the famous Blaniks – L 13, L 23 and L 33.
During the 60s LET's engineers developed a 19 seat commuter turboprop – the L410, of which more than 1,000 were produced since then. This popular aircraft has gone through a number of improvements and modernisations and the current types, the L 410 UVP-E20 and L 420 are EASA and FAA certified respectively.
In September 2005 the company was acquired by the Czech private group PAMCO and new company under the trade name Aircraft Industries was formed. In June 2008 the Russian industrial holding Ural Mining and Metallurgical Company (UGMK) acquired 51% of company shares.
Contact info #1
Na Zahonech 1177, 686 04 Kunovice, Czech Republic
TRAINING
L410 TYPE RATING TRAINING COURSE FOR PILOTS
T-1-1 Ground school: 30 hours
T-1-1 CPT (cockpit procedure training): 6 hours
T-1-1 Simulator Training: 20 hours
A/C base training: 3,5 flight hours (8 landings)
A047: Indonesia
TRE check: 1,0 flight hour

DURATION: 12 days

ENTRY MINIMUM REQUIREMENTS:
License ATPL or CPL ( IR )
Required total flown hours for co-pilot 200h (100 as PIC )
Frozen ATPL for co-pilot ( passed theory exams ATPL )
MCC course or MPA plane flown before.
Valid ME IR
Valid Medical certificate

PLACE OF PERFORMANCE: Flight Training Centre located in Ostrava Czech Republic.
TYPE RATING COURSE FOR THE AIRCRAFT ENGINEERS
Electro/avionics
Airframe/power plant
Universal (combination of electro/avionics & airframe/ power plant)
DURATION: 4 weeks (theoretical & practical part)
ENTRY MINIMUM REQUIREMENT: The training participants should be holders of valid ICAO/NAA/JAA/EASA aircraft license for turboprop aircraft of the same category as the L 410 aircraft, as minimum.
PLACE OF PERFORMANCE: Aircraft Industries, a.s. Training Centre approved as EASA PART-147 maintenance training organisation.
INTERNATIONAL AIRPORT
ICAO: LKKU, IATA: UHE
ARP coordinates: 49 01 46 N 017 26 23 E
Type of traffic permitted: IFR, VFR
Category: non-public international airport
Airport runways:

21C/ 03C 2000 x 30 m, concrete surface, load capacity PCN 33/ R/ B/ X/T
21L/ 03R 1690 x 60 m, grass surface, load capacity 25.000 kg
21R/ 03L 1480 x 80 m, grass surface, load capacity 25.000 kg

Elevation: 581 feet/177 metres
Reference temperature: 21°
Instrument Approach Procedure: 2 NDB (GPS)
TWR/Radar Frequency: 120.10 MHz
Operation hours: Monday - Friday, from 08.00 to 16.00 LT, otherwise at request
AVIATION TRAINING COLLEGE
Aircraft Industries operates its own school for young mechanics. A comprehensive hands-on-four-year curriculum ends with a final exam plus an EASA recognized commercial licence for aircraft maintenance according to Part 66.
RESEARCH & DEVELOPMENT
AERODYNAMICS Group
Aircraft geometry design
Optimization of drive unit output for specified aircraft
Analyses of aircraft performance, stability and manoeuvrability
Analyses of failure results
Aerodynamic load determination (including preparation of methodologies for aerodynamic tunnel measurements)
Certification analyses (experience in NLGS-2, FAR 23, FAR 25, CS-23, CS-25, JAR 22, JAR 23, JAR 25 standards and icing conditions)
Preparation of methodologies for development and certification flight tests
Incorporation of data and procedures info Flight manual
Route and economic analyses – determination of direct operation costs (DOC)
STATIC STRENGTH Group
Load determination and distribution over the basic structural elements
Strength analyses of load capacity of structural units
Strength analyses of tension distribution by means of FEM (linear and non-linear)
Dynamic analyses by means of FEM
Analyses of gust load by means of FEM
Ground and flight development and certification tests
Certification analyses (experience in NLGS-2, FAR 23, FAR 25, JAR 22, JAR 23 regulations)
FATIGUE LIFE Group
Analyses of service of aircraft, systems and equipment used in aircraft during development, production and operation stages
Aircraft design based on SAFE LIFE or DAMAGE TOLERANCE strategies and using FEM and FEMAP - NE/NASTRAN system
Preparation of base documents for fatigue test execution and evaluation.
Aircraft in operation lifetime increasing.
AEROELASTICITY Group
Determination of aircraft design modal characteristics
Analyses of aircraft design aeroelastic features (determination of critical velocities, flutter analyses)
Preparation of ground and flight development and certification tests
Certification analyses (experience in NLGS-2, FAR 23, FAR 25, JAR 23 regulations)
MASS AND CENTRE OF GRAVITY Group
Preparation of design mass analyses
Determination of aircraft design modal characteristics
Analyses of admissible range for centre of gravity position
Determination of admissible mass configurations
DESIGN Department
Designing works concerning all systems of aircraft of Commuter, Transport and glider categories except for designing driving units
Preparation of designing documentation in an electronic form (2D and 3D format), construction of mathematical models of surfaces and areas of aircraft and aircraft parts using AUTOCAD and CATIA software
Elaboration of certification documents
Preparation of drawing documentation for cooperation consisting in acceptance, decoding and transformation of base documents for production technical preparation and production
Updating and revisions of designing documentation and instructions for service organization production (service bulletins)
DEVELOPMENT TESTING LABORATORY – AIRCRAFT TESTING
Aircraft Industries have got the Approval Certificate No. L-3-059 per § 17 of the Civil Aviation Act No. 49/1997 following Procedure CAA-TI-012-2/99 to perform compliance and verification tests of aircraft of the following categories (according to L8A Regulation ): Normal, Utility, Aerobatic, Commuter, Transport.

Aircraft Industries are authorised to perform compliance and verification tests of:
Aircraft of the above categories and their structural parts
Aircraft assemblies
Tests are performed according to the PART,JAR , FAR, ICAO and other Regulation bases on customer option.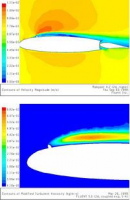 АIRCRAFT MAINTENANCE
LET's dully EASA PART 145 approved maintenance organisation offers services as follows:
Periodical maintenance P2 – R1
Performance of modification, upgrade, modernisation in accordance with Service bulletins issued by us
Aircraft type conversions from L 410 UVP-E to L 410 UVP-E20
Conversion of L 410 UVP and L 410 UVP-E maintenance system from overhaul to on condition system
Field and in-house L 410 aircraft damage repairs
Aircraft interior modification
Aircraft modification(s):
Cargo kit
Ambulance version
First-aid version
ALUMINIUM SHEET AND PROFILE FORMING
SHEET BENDING
Press brake (up to. = 4 000 mm, thickness max. = 3-4 mm)
Crank presses (punching, dimpling etc.)
Hand bending machines (bent lenghts up to = 2 000 mm, thickness max. = 2 mm)
SHEET ROLL-BENDING
Roll-Bending Machine HAEUSLER
Cylinder length up to = 4 400 mm, minimum radius = 22 mm, thickness max. = 3 mm
PRESSING OF FLAT SHEET – METAL PARTS USING RUBBER CUSHION
FRICTION PRESS (parts up to = 360 x 360 x 40 mm, height up to = 40 mm)
FLUID CELL PRESS
o parts up to 1 000 x 2 800 x 200 mm
o working pressure 25 MPa
o height up to 200 mm depending on the complexity

FORMING USING STRETCH
Stretch forming presses
Single or double curved formed across the block
Height depends on stability of the block
SECTION FORMING BY STRETCHING AND ROLLING ON BLOCKS
up to = 4 000 mm
max. cross section. = 250 mm2
PRODUCTION OF SECTIONS FROM SHEET-METAL STRIPS THROUGH DRAWING DIE
length up to = 6 000 mm
sheets up to = 2 thick
PRODUCTION OF ROTARY VESSELS BY SPINNING
max. Al sheet thickness 2 mm, max. blank diameter hand extrusion 940 mm, machine extrusion 500 mm
STEEL FORMING
STEEL SHEETS FORMING ON ECCENTRIC PRESSES
shearing, bending, drawing, push broaching, extrusion, forging and trimming
work table dimension from 320 x 210 mm do 1 000 x 720 mm
ram stroke from 8 do 125 mm
bent lenght up to = 720 mm
PRESS BRAKE FORMING
bendign, straghtening and punching

sheet thickness 1 to 12 mm
work table dimensions 4 000 x 3 120 mm
bent length up to 4 000 mm
MACHINING
TURNING OPERATION
standard centre lathes up to 250mm in diameter and 1 250 mm in length
automatic lathes up to 20 mm bar diameter
DRILLING AND BORING
drilling machines (max. diameter 50mm, max distance between spindle and work table 1 345 mm)
horizontal boring machines (work table 1 000 x 1 200 mm, height = 0 – 900 mm)
coordinate boring machines (work table 1 000 x 1 600 mm)
GRIDING
standard grinding machines
(centre grinding machines – external diameter up to 280 mm)
(centreless grinding machines ¤ 3 – 63 mm) )
(hole grinding machines ¤ max. 250 mm, ¤ min. 10 mm, length max. 250 mm)
plane griding machines (part max.300 x 1 500 mm)
cog grinding machine (module 1,5 až 6, ¤ from 30 to 315 mm, wheel width up to 100 mm)
tool grinding machine (external ¤ up to 280 mm, centers distance 500 mm)
MILLING
standard milling machines (parts up to 425 x 2 000 x 500 mm)
gear milling machine
(module up to 7, wheel diameter up to 800 mm, teeth straight, helical, worm or chain)
pantographic milling machine (220 x 440 mm. Reduction 1:10)
single purpose milling machine for globoid and duplex globoid cogs and worms
CNC milling machines:
Name
CONTROL SYSTEM
BLOCK DIMENSIONS (mm)
MOVES IN AXES x,y,z (mm)
V3 1600 B
Heidenhaim 410
8 300 x 1 600 x 600
6 300 x1 600 x 500
MRP-2
UNIMERIC 723 - 3D spindle
12 000 x 1 590 x 700
10 000 x 1 600 x 600
V 800 AN
Heidenhaim 530
2 800 x 800 x 700
2 440 x 800 x 580
MF 800 AN
UNIMERIC 700 CNC - 3D
2 600 x 850 x 700
2 440 x 800 x 580
FUWx 315/6
CNC- H 646 - 2,5D
710 x 400 x 354
500 x 400 x 330
VF 1 TC
UNIMERIC 200 CNC - 3D
900 x 500 x 550
800 x 500 x 400
FS 100 S/A3
Heidenhaim 426 - 5 axis
3 000 x 1 000 x 900
4 000 x 1 000 x 900
ROUTING
TRUMATIC NC milling machines
bundle of sheets up to 12 mm thick, (3 000) 2 500 x 1 200mm
Milling tool min. 6 mm diameter
RAW MATERIAL CUTTING
CORTINA S 2600 – NC oxygen cutting machine for steel sheets of 5 to 125 mm thick, working width 2 600 mm, cutting speed max. 7 m/min., cutting slot 1,6 – 4,6 mm
circle saws (up to 40 mm in diameter)
band saws (up to 250 mm id diameter, or 265 x 150 mm)
table shears (width up to 2 300 mm, thickness up to 6,3 mm)
curved shears, circular shears and vibration shears (width up to 1 000 mm, thickness 1,5 mm to 2,5 mm)
abrasive cutting machines
SLOTTING
with a slotting machine (up to 270 mm in height)
cog wheel machine (module 0,7 – 3, wheel diameter up to 315 mm)
WELDING
STEEL ARC WELDING
carbon steel, alloy steel, cast iron and cast steel, by coated (basic or special coating) electrodes, material thickness min. 1 mm
grooving by carbon electrodes, straightening
STEEL MAG WELDING
carbon or alloys steels, thicknesses up to 8 mm
for maintenance purposes - surfacing
STEEL SPOT WELDING
carbon or alloy steels, thicknesses from (0,5 + 0,5) to (3 + 3) mm
max. thickness ratio 3:1
STEEL TIG WELDING
carbon or alloy steels and stainless steel
copper, thickness from 0,5 to 10 mm
STEEL OXY-ACETYLENE WELDING
carbon, alloy or stainless steels welding and brazing, thicknesses from 0,5 to 3 mm
ALUMINIUM AND AL-ALLOY TIG WELDING
for weldable materials, thicknesses from 0,8 to 10 mm
ALUMINIUM AND AL-ALLOY OXY-ACETYLENE WELDING
for welding and brazing thicknesses from 0,6 to 5 mm
washing in baths 2 800 x 680 x 1 230 mm
ALUMINIUM AND AL-ALLOY SPOT WELDING
for aircraft parts from (0,6 mm + 0,6 mm) to (2,0 + 2,0 mm), max. thickness ratio 3:1
tests are necessary for thicker materials
RIVERTING
MANUAL RIVERTING
manual riveting for rivets up to 5 mm in diameter (Al-Alloy)
MACHINE RIVERTING
machine riveting on hydraulic and pneumatic presses for parts up to 1 500 x 6 000 mm
RADIAL RIVERTING
BRACKER radial riveter
Al-Alloys rivets up to ¤ 5 mm (solid rivets) or ¤ 10 mm (tubular rivets)
ONE-SIDED RIVERTING
manual
pneumatic, rivets up to ¤ 5
Special fasteners pneumatic installation (Lockbolt GP a LGP ¤ 4 mm a ¤ 5 mm)
SURFACE TREATMENT OF ALUMINIUM
Computer-controlled automated line with recording and archiving data for processes:
YELLOW CHROMATING ALUMIGOL B
This coating provides corrosion resistance of parts combined with excellent adhesion. Thus treated surface is suitable for coating systems or application of powder coating.
Usable internal dimensions of the bath: length 5500 x width 1900 x depth 600 mm.
COLORLESS CHROMATING ALODINE 1500
The surface treatment provides corrosion protection of aluminum and is an excellent binder for transparent organic surfaces. It is used when the characteristic appearance of aluminum is needed.
Usable internal dimensions of the tank: length 1800 x depth 800 x width 700 mm
ENVIROMENTAL TESTING OF CORROSION RESISTANCE
Salt spray chamber
HARDENING SHOP
Newly refurbished hardening shop, equipped with computer for monitoring, recording and archiving of data:
HEAT TREATMENT OF ALUMINIUM
salt bath for heating and cooling (solution annealing) of sheet metal parts such as aircraft structures
processed materials Z424203, Z424253, AA 2024, ALCLAD 2024, DIN 3.1354, 3.1364
max. size of parts: 5800 x 2000x 500 mm
HEAT TREATEMENT OF STEEL
annealling, normalizing, hardening, cementation of the surface
carbon steel,alloyed up to class.16 (according to ČSN)
max. size of parts: 1200x600x450mm
PAINTING
Painting with use of polyurethane, epoxy, acrylic, nitrocelulose and synthetic coatings.
Painting Boxes 6 x 4 m, 20 x 7m. Painting Hall 60 x 32 meters.
Experience with painting interior parts for aircraf, buses, train units, etc.
Aircraft Industries a.s.
Na Zahonech 1177, 686 04, Kunovice, Czechia
+420 572 816 004
+420 572 816 006
let@let.cz