Last Update
August 31, 2018
Categories
Composites, Plastics & Rubber
Electrical, Electronics & Electro-optics
IT, Computing and Software
Mechanical, Electro-mechanical, Hydraulic and Pneumatic components
Metal Processing, Parts & Components
Radar, Sonar, Navigation, Targeting, Surveillance
Services (R&D, training, engineering, consultancy, …)
DIGICON, is a Brazilian company that was founded in 1977. During the first years of its creation Digicon was manufacturing high - precision measuring systems for machine. Currently the company has expanded its field of actions in order to include the design and development of electromechanical equipment for different market needs. Additionally, Digicon creates components for the aerospace market. The facilities of the company are strategically placed in locations easily accessible by road and air. The headquarters are located in the municipality of Gravataí, state of Rio Grande do Sul, Digicon and there is also an office in Alphaville, Barueri, a municipality near the city of São Paulo.
The main products of the company includes:
Access controllers (turnstiles)

Traffic controllers

Parking control systems (parking meters)

Automatic ticketing systems for urban transportation

Peripherals for the plastic transformation industry and components for the aerospace market
Regarding its activities in the aerospace market, Digicon has been a supplier of the Brazilian aerospace sector since 1986. It began by supplying equipment used in military products, satellites, and in the aeronautics industry. Until then Digicon has won new and important customers. The main reason behind this successful process is the constant training of its specialized teams, the improvements in its quality systems and finally the investments made in new manufacturing, measuring and testing facilities and equipment. Nowadays, Digicon's panels and electronic subsystems are used in Brazilian satellites and the company's aeronautic components can be found in commercial aircraft all over the world.
The manufacture of Digicon aeronautical components complies with its customer's designs and special process specifications, within, of course, the bounds of accepted industry quality standards. A modern machine shop allied to a variety of in-house special processes gives Digicon the ability to offer its clients reduced lead times, quality assurance, new process development and full logistics at competitive pricing.
In its constant search to improve technology and operational systems Digicon managed to align its quality system to ISO 9001 standards in 1995. This goal was reached after eight months of integrated effort by all company sectors and employees.
Based on the solid experience that it has gained throughout its 30 years of existence, Digicon was able to successfully enter the aeronautical market and deliver consistent quality production parts at competitive prices.
The company's Aeronautical Components department vision is to continue to develop it's current capabilities and product offerings and additionally to look for new opportunities that would be able to leverage the experience of the Digicon Group in electronic board production and testing, cabling, final product assembly, sheet metal processing and many others.
Contact info #1
Rua Nissin Castiel, 640, Distrito Industrial, 94000-970, Gravatai/RS - Brazil
SERVICES
Build to print machining
Sourcing of raw materials (casting, bar stock, exotic materials)
In-house special processes: Chrome and nickel plating, suphuric and chromic anodization, passivation, heat treatments and NDT (fluorecent penetrant and magnetic particle inspection)
Self release quality assurance
Delivery logistics
Quotations and contracts in Euros or US dollars
New process certification
ACCESS CONTROLLERS (TURNSTILES)
Digicon offers a complete line of turnstiles for all types of access control applications. A modern design combined with several options allow our turnstiles to be customized and adapted to the specific requirements and location where they will be installed.
Turnstiles can serve a wide range of residential or commercial applications – gyms, schools, and public transportation companies to name a few. These sturdy and reliable products are easy to assemble and maintain.
Catrax Plus turnstile is the best access control solution available in the market. The models stand out for their versatility, attractive design and, especially, for their ease of integration with other security components, such as magnetic, biometric and proximity readers. Catrax Plus turnstile pedestal has rounded corners and plenty of internal space to facilitate the assembly of electronic and other types of components. As access is gained by a key lock, there are no exposed screws.

Catrax Master was manufactured in a smaller size, with lightweight materials, saving space and enhancing resistance. Its innovative design combined with the optional finish offer a broad variety of configurations. This allows customizing and adjusting the product to meet specific needs.

Catrax Clip was specifically designed for disabled people. It has an innovative design and was manufactured in a smaller size to enable quicker and easier passage. This model is ergonomic, practical and safe. In addition, the turnstile pedestal was designed to withstand the impact produced by wheel chairs.

CCA 1040 is a four-armed turnstile developed for use in public transportation systems as either a traditional mechanical turnstile or as part of an ticketing system (when coupled to a validator). It is efficient, durable and cost-effective. In addition, it meets all applicable safety, quality and reliability requirements.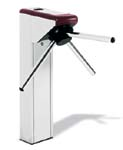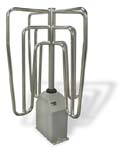 Product informational files
AREONAUTICAL COMPONENTS
Digicon started manufacturing aeronautical components in 2001 with moderate to complex machined parts for aircraft air managements systems. Over the years Digicon also developed and certified to client and international specification a diversified set of in-house special processes to improve lead times and maintain a higher level of quality. The result is a higher level of customer satisfaction.
Product informational files
CONTROL PERIPHERALS FOR PLASTIC EXTRUSION
Digimix 300/4 e 300/6 - GRAVIMETRIC BATCH BLENDERS - Throughput of 100 and 300 kg/h; High precision
Digigrav 300 e 800 - Throughput of 300 and 800 kg/h; Controls up to 9 extrusion screws
Digimix + Digigrav
Central vacuum loaders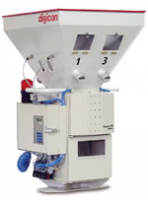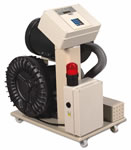 Product informational files
MACHINING CAPABILITIES
1 vertical machining center, 5 axis (500mm X axis travel).
2 vertical machining centers, 4 axis (720mm X axis travel).
1 vertical machining center, 4 axis (1010mm X axis travel), with pallet changer.
2 horizontal turning centers, 8 tools.
1 centerless grinder.
1 universal OD grinder.
1 manual lathe equiped with a gun drilling spraymist kit for deep holes.
1 cnc tool sharpner/maker.
1 full set of pneumatic and electrolytic marking tools.
1 full set of pneumatic and manual deburring tools.
1 full set of tools, fi xtures and gages for hardware installation (helicoils, pins, plugs and bushings).
EDM services (wire and plunge).
Fully tooled with machining and testing fi xtures designed and manufactured (partial) in house.
Internal tool shop common to the Group.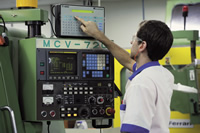 QUALITY CAPABILITIES
2 fully automated 3 axis CMM
1 manual 3 axis CMM
1 In process probe for machining center
1 In process probe for machining center
2 profi le projector
1 magnetic particle non destructive tester - ASTM E1444 (level III and level II personnel qualifi ed)
1 fl uorescent particle non destructive tester - ASMT E1417 (level III and level II personel qualifi ed)
1 salt spray tester
1 electronic surface roughness tester
1 rockwell and vickers hardness tester
Full set of manual gages (calipers, micrometers, height gages, surface plates, bore gages, indicators, V-blocks etc.)
ISO 9001:2000 company wide certifi cation since 1995
AS 9100 since 2005
Designated Quality Representative - 2 qualifi ed technicians
Quality Clinic process for treatment of non-conformances and continuous improvement
SURFACE TREATMENT
Chrome plating per QQ-C-320B (AMS2640). Thick and Thin
Electroless Nickel plating per MIL-C-26074
Anodization per MIL-A-8625: Chromic type I,Sulphuric typeII
Stainless steel Passivation per QQ-P-35 (AMS2700)
Aluminum Conversion coating per MIL-C-5541
Solid film lubricant application per customers spec.
HVOF coating (under development with third party)
HEAT TREATMENT
PH steels Heat treatment per MIL-H-6875 (AMSH6875)
Cobalt alloys aging
Nickel alloys aging
TURNSTILES
Intellisystem chose Digicon's turnstiles for access control with proximity card readers at the Maiojama Commercial Building, in the municipality of Porto Alegre, state of Rio Grande do Sul. After an extensive survey, Digicon's products were chosen because they offered a combination of several factors: modern design, sturdiness, and excellent electromechanical quality.
The several color options offered by Digicon were the decisive factor for choosing Catrax at the CPFL headquarters in Campinas and São Paulo. "The color scheme in the reception area, which is in harmony with the rest of the building, and the logo matching turnstile details: this made the difference," remarks Julio Cesar Casalino, from Controller's Commercial Department.
Digicon's turnstiles in association with proximity card readers constitute an integrated technology that fully meets the technical requirements of construction projects – in this case, the Wallace Simonsen Building, located in the region surrounding Luiz Carlos Berrini Avenue, in São Paulo. Furthermore, Digicon's products offer high quality at the best cost, ensuring competitiveness for our suppliers as well.
With more than 10 years of experience in systems integration, Ultrak has successfully aggregated access control information to Digicon's turnstiles to develop a product that is used at the Eluma Building.
Digicon S.A.
Rua Nissin Castiel, 640, Distrito Industrial, 94000 970, Gravataí/RS, Brazil
+55 51 3489 8700 
+55 51 489 1110