Last Update
September 13, 2018
Categories
Electrical, Electronics & Electro-optics
IT, Computing and Software
Services (R&D, training, engineering, consultancy, …)
Tracker Oy, specialises in tracking and telemetry devices. Tracker products have set the standard in different fields related to positioning, tracking, and navigation in many countries throughout the world. The radiolocation and GPS devices, as well as easy-to-use tracking applications for PC, mobile phone, and Internet use, highlight their expertise.
Tracker Oy's business activities are divided into three areas: outdoor, animal tracking, and security services.
The outdoor range provides lightweight and handy products for the positioning, tracking, and route planning needs of people outdoors, and for positioning many kinds of targets.
The animal tracking division develops solutions for wildlife research and tracking of pets.
Their security division offers products and services to three target groups: authorities, companies and communities, and private users. Tracker is a pioneering company in the field of security. The company has provided tracking solutions for positioning of vehicles, other equipment, people, and articles for almost 30 years. The tracking devices have facilitated the apprehension of car-theft rings and improved positioning of companies' vehicles and personnel. They have been used even in saving people's lives.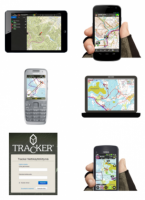 Tracker Oy
Telemetry House Kauppiaantie 30, Oulunsalo, Finland
+358 85 219 000
+358 85 219 100