Last Update
September 7, 2016
Categories
Composites, Plastics & Rubber
Metal Processing, Parts & Components
Services (R&D, training, engineering, consultancy, …)
Finetornos® - Hernandes Fim & Cia. Ltda., a steel company in the sector performing CNC Machining and Assembling, started its activities in 1976, with the ideology and initiative of its founder and current president/director, a professional company with extensive experience in the machine-making industry national and international.
Since its foundation, Finetornos® serve the largest industrial customers and multinationals with innovative and competitive profiles, with mutual encouragement, to pursue sustained growth in technology, machines, trained and skilled personnel, leading both to habitual progress.
A Family oriented company yet with strong professional and corporate management, led by three directors with professional expertise in the segment:
Commercial and Development Director: Degree in Industrial/Mechanical Engineering and Post-Graduate degree in Management and Marketing;

Industrial Director: Degree in Industrial/Mechanical Engineering;

Administrative and Quality Director: Degree in Electrical Engineering.
A traditional company, gained its respect and loyalty from its customers due to its long journey of tradition experience and quality. The company operates in the global market, making its main focus is its client's success, offering integrated solutions in Engineering and adding value to the client's objectives, participating and monitoring the processes and stages of production.
Finetornos® accompany the evolution of the industry in Brazil, as well as in other developed markets, such as: North America, Europe and Asia.
Focus & Market Segments
Sectors:
Aeronautic - 55%

Automotive - 35%

Industrial - 10%
Finetornos® dedicated to the CNC Machining Centers 3D CAD CAM –03 and 04 axles, CNC turning, and Electric Discharge Machines, focused on the production and development of pieces and parts of complex geometries in various materials, such as aluminum, steel, stainless steel, titanium, non-ferrous alloys, thermoplastics, and nodular gray cast iron, cast steel and special alloys.
For the aviation sector, Finetornos® produce Machined Parts, and Mechanical and Structural Products such as: Frames, Supports, Linings, Reinforcements, Platforms, Tracks, Connections, Actuator Assembly Supports, Bell crank, Bolts, Anchor Plate Shank, Stabilizing Doors, among many others.
The aeronautic parts produced by Finetornos® are applied in virtually every airplane, such as: Activations, Doors, Entry Ramps, Floors, Wings, Flaps, Main Body of Plane, Landing Gear, Stabilizers, Seats, Door Components, Avionic Supports and Linings.
In the automotive sector, Finetornos® work with low and medium demand production and on prototype development, being that the prototype is the embryo for the development of concepts for existing and new products.
We produce according to the processes of certification, with total loyalty to the design and implementation there for ensuring quality, performance, durability of the product.
What makes us unique is our commitment to our customer and punctuality. With our system of quality management, ISO 9001, version 2000 and ISO-AS-9100 (NBR 15100), around a 3D design of the client, we generate and project 3D CAD CAM, draw up the procedures of production, tests and smelting reports laboratory, materials, including the innovation and use of the process of stereolithography in the shortest time.
The automotive and industrial parts produced and developed by Finetornos®, such as: clutch carcasses, flywheels, clutch, supports, brake bodies and cylinders, water pumps, filter supports, exhaust and admission collectors, etc., are applied in virtually all markets, such as: Automotive, Brake Systems, Diesel Engines, Trucks, Buses, Tractors, Boats and Generators.
Finetornos® work in synch to the speed of new products and the markets segments where our clients want to participate in.
Contact info #1
Rua Francisco Alves de Almeida, 50, Parque Industrial - Campinas - SP, CEP 13031-650, Brazil
Contact info #2
comercial@finetornos.com.br
Rua Francisco Alves de Almeida, 50, Parque Industrial - Campinas - SP, CEP 13031-650, Brazil
OTHER SERVICES
Providing Services Machining EDM.
Electric Discharge Machines Charmilles wire to 05 axes and, of Penetration/Hurricane.
Machining of Matrix for Cutting, Conformation Plait, Extrusion, Punctures, Inserts, Wire Guides, Drawplates, Inserts for Plastics Moulds, Measuring and Comparison Standards.

Special pieces in different applications, in the scale of the elements of conductive materials, such as: Steel, Steel Quick, Carbide Metal, Titanium, Molybdenum, Tantalum, as well as non-ferrous materials: Brass, Copper and Aluminum.
CNC MACHINING
CNC Machining Centers Sector: CAD CAM 3D.
Aeronautic Sectors, Automotive and Industrial.
Metrology Sector (CAM 3D).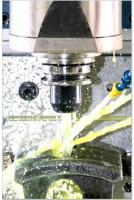 CAPABILITIES - FRAMEWORK
With machineries and equipments of the latest generation CNC 3D CAD CAM, CNC Machining Centers, 03 and 04 axes, centers of turning machine and Electric Discharge Machines Charmilles 05 axles, processed by software 3D CAD CAM VISI, and this is a general system for the globalized market, with converters for dxf, iges, vda , step, and with direct interfaces with the main software for industrial projects, including: CATIA, PRO/E, AUTOCAD DWG, ACIS, working with the speed of information and innovation, provided by new technologies and their advances.
We have a manufacturing structure, managed by modern systems of management and planning software with integrated ERP/MRP. Synchronized with control system processes and services, planning and control of the production Preactor, which uses the concept of sequencing in finite capacity, powered by collectors sectoral data of bar code.
With harmonious and functional layout, departments are agile and well equipped with perfect integration of teams, counting on specialized and well trained professionals.
Metrology sector completely climatized and well equipped with three-dimensional machine with software for measurement that enables to compare the 3-D piece to the actual one, with makes the software and Mitutuoyo MODEL CRYSTA BND-DC 9168 - CNC, with capacity 905 x 1605 x 805 mm, a perfect match.
Staff
Finetornos® encourage low turnover of staff, encouraging individual initiatives of study and training, completed by learning through internal and external sources, highlighting groups and the company as a whole.
Finetornos® recognize people by their commitment and dedication through balance of their professional, family and quality of life.
Finetornos - Hernandes Fim & Cia. Ltda.
Rua Francisco Alves de Almeida, 50, Parque Industrial SP, CEP 13031 650, Campinas, Brazil
+55 19 3272 2366 
+55 19 3272 2366
comercial@finetornos.com.br