Last Update
March 15, 2019
Categories
IT, Computing and Software
Training & Simulation
RE-liON supplies new technology to professionals in several fields of crisis management. The company has a long-standing tradition of going to great lengths to create user-friendly products that incorporate the latest in technology advances.
RE-liON's focus is on creating advanced training and mission preparation systems that are carefully designed for professionals in crisis management that risk their lives on a daily basis. For all their products the company also offers through-life support, making sure the products can be optimally utilised.
All products shipped are the result of a team effort that combines many years of (academic) research & development. RE-liON's team is a healthy mix of engineers with degrees in Computer Science, Industrial Engineering, Electronics Engineering and 3D Graphics Design.
RE-liON is a privately owned development and manufacturing company, incorporated in 1999 with its roots at department of Human Machine Interaction of the University of Twente, The Netherlands. As a young company, they provided a wide set of products and services including medical simulators, architectural and entertainment visualisations, and driving simulators supporting multiple thousands of students per year spread over a numbers of different countries.
Contact info #1
Rigtersbleek-Aalten 35 - PO Box 530 - 7500 AM Enschede - The Netherlands
RE-liON BlackSuit
The #1 Simulation System for Training of SpecOps and Infantry
RE-liON BLACKSUIT is a virtual simulation system for realistic team training and mission rehearsal. This offers substantial benefits live simulation lacks: Objective recording of all actions during training, almost infinite variety in training and mission environments, Controllable role play and all that culturally correct with no overhead(s) in planning and logistics.
Key BLACKSUIT points:
• enable users to train more by removing overhead;
• allow for a virtually infinite number of training environments and role players;
• record & replay exact trainee behavior;
• enable users to execute a final rehearsal in any replicated mission environment.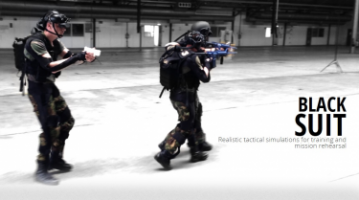 Product informational files
Builder
Terrain Databases for Training Planning & Mission Rehearsal
Ready for next mission?
The chance on success of the next mission is significantly increased by solid training, planning & mission rehearsal.
Simulation as a key military capability
• Train all possible scenarios
• Plan in 3D taking all terrain features into account
• Rehearse in the area of operation
But training time is limited, physical limitations prevent training of all possible scenarios, current maps are 2D and the operational area does not allow mission rehearsal. Introducing virtual simulation in your process removes current limitations.
Key re-lion Builder points
re-lion Builder is easy to learn & use, offers virtually unlimited varieties in typical terrain databases and enables mission planning & rehearsal in replicas of mission areas. Terrain databases created with Builder are correlated and can be published to re-lion SUIT, VBS2, Steel Beasts and OpenFlight.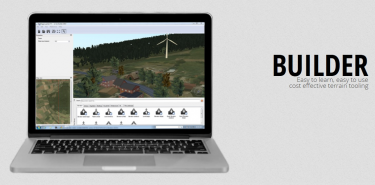 Product informational files
REliON RedSuit
RE-liON is proud to present REDSUIT, a BLACKSUIT spinoff based on many years of experience gained with this military training system. REDSUIT is a deployable team trainer to safely educate and train fire fighters in (nozzle) tactics, ventilation techniques and recognizing dangerous situations.
• Train as you fight methodology
• Substantial decrease in overhead of training
• Substantial decrease in use of consumables
• Proven effective and safe
REDSUIT is under development and maturing from concept to product.
RE-liON B.V.
Rigtersbleek Aalten 35, 7521 RA, Enschede, The Netherlands
+31-85-7430290
+31-85-7430299
info@re-lion.com