Last Update
November 23, 2016
Categories
Other Aerospace, Defence and High Technology related companies
Nodin Aviation A.S., is a Norwegian Company specialised in developing role equipment for rapid reconfiguration of troop transport vehicles, vessels or aircraft into CASEVAC/MEDEVAC units. The equipment is designed to be deployed quickly with low weight and focus on comfort for the patients. Nodin Aviation has developed a range of products designed to meet strict requirements for safe transport of patients on stretchers, even in the most extreme environments.
The company's core strategy is to work in close relation and dialog with the potential users of the new products and concepts.
References:
The Royal Norwegian Navy, Coastal Rangers Command

The Royal Norwegian Air Force, 330 Squadron

The Norwegian Naval Home Guard
Contact info #1
Gauteroedveien 53 N-3154, Tolvsroed, Norway
STRETCHER SUPPORT RACK FOR INDIVIDUAL DAMPING OF VIBRATION, JOLT AND SHOCK
NT-620 is a system developed for transportation of patients on standard stretchers, providing fast and flexible mounting in military or civilian vessels or vehicles. The system reduces unpleasant and life threatening vibrations and jolts to a safe and comfortable level.
The combination of the damping units interconnected with web harness gives the system a unique spherical damping capacity. NT-620 does also have shock absorbing qualities, reducing shock waves down to an acceptable level. It has been developed to meet strict requirements regarding fast assembling and disassembling, reliable functionality, strength, flexibility and high degree of integration.
Role equipment, within 1 to 2 minutes the transport unit has been converted from a carrier of personnel or goods, into a CASEVAC/MEDEVAC unit. The Stretcher Rack System can be delivered in three versions:
NT-620/1 for one stretcher
NT-620/2 for two stretchers
NT-620/3 for three stretchers Distance between stretchers according to customer request.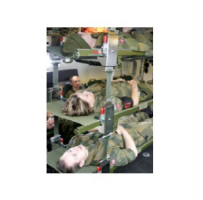 SURGICAL WORKSTATION – Vibration and Shock dampened
Vibration and shock absorbing platform, facilitating field surgery onboard vessels and vehicles. Specially designed for high-speed boats, but can easily be redesigned for other vessels or vehicles.
Role equipment, designed for rapid assembly and disassembly. The system is based on the principles of the patented NT-620 and gives a spherical damping of the platform.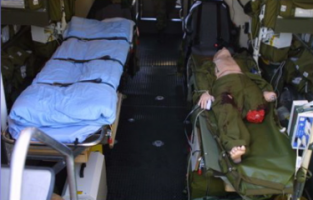 Product informational files
STRETCHER SUPPORT RACK INTEGRATED IN TROOP SEATS
The system is totally integrated, and does not need any additional instalment of bolted brackets or fastening holes. In Sea King MK43 configuration - the system can be assembled and disassembled in less then 2 minutes with pre installed fastening points.
The fastening points are preinstalled to the existing troop seat structure.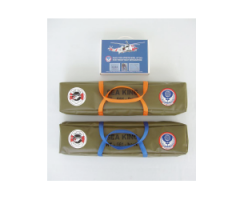 FOLDABLE MILITARY STRETCHER
A four folded stretcher designed in accordance with STANAG 2040 and STANAG 3204. Low weight and foldable with telescopic handles are features that are appreciated both during use and storage. The stretcher has an integrated 5+2 point harness for safe evacuation by land, sea or air. Harness can be repositioned to enable patient restraint when using the NODIN adjustable back rest (ABR). The ABR is adjustable for 0, 30 and 45 degrees.
CASEVAC Kit
To enable immediate evacuation of injured persons NODIN has developed a CASEVAC kit which can be used on board most vehicles and vessels. The NODIN CASEVAC kit consists of four folded stretcher and a four sling stretcher rack with two Vibration and Shock Damped Stretcher Brackets. The Torso/Head end of the patient is placed at the end where the Vibration and Shock Damped Stretcher Brackets are located. The Casevac kit is light and with low volume approx 40 kits can be stored within one cubic meter.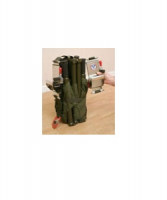 Product informational files
INTRA HOSPITAL PATIENT TRANSPORT SYSTEM
Tactical Intra Hospital Transport of critical Patients. This Patient Transport System has been designed to be suspended in standard aircraft stretcher support systems. It is designed to meet the requirements of STANAG 2040 and STANAG 3204.
Unit Weight Empty: 18 Kg Additional payload of electro medical equipment and oxygen is 60 kg. Optional with Extendable legs.
STRATEGIC AERIAL MEDEVAC
Role Equipment for Strategic Aerial MEDEVAC.
Stretcher Support Rack

Mass Evacuation Capacity

Two stretcher patients' pr rack

Light weight, small storage volume

Rapid installment in A/C, without tooling

Up to 22 stretcher patients' pr flight, Boeing 737-700

Can be palletized for use in military cargo aircraft

Electro Medical Rack

Design to meet Customer requirements and choice of Electro Medical Equipment

Rapid installment in A/C, without tooling
Also prepared for use on board C-130J
Product informational files
Nodin Aviation A.S.
Gauteroedveien 53, N 3154, Tolvsroed, Norway
+47 3 332 79 43
+47 3 332 96 33
post@medevac.no