Last Update
August 31, 2016
Categories
C4I, Communication Systems
IT, Computing and Software
Services (R&D, training, engineering, consultancy, …)
AUTOMATIZACION DE PROCESOS S.A.S. - ADeP S.A.S., is a Colombian organization in constant evolution that uses all its human potential to provide customers with efficient solutions to their problems. The Company is in constant pursuit of leading edge technology, in order to offer high quality services. The Company is equipped with a project team capable of performing services in various areas of engineering (Electrical - Automation - Telecommunications - etc.) and has an extensive experience in control and alarm systems for ships.
AUTOMATIZACION DE PROCESOS S.A.S. - ADeP S.A.S. serves customers' needs providing high quality prototypes, products, machinery and turnkey equipment, further facilitating the installation and commissioning of each of the projects developed.
MISSION
AUTOMATIZACION DE PROCESOS S.A.S. - ADeP S.A.S.'s mission is to offer effective solutions related to the automation, energy and telecommunications sectors that improve customers' productivity. The Company utilizes experienced, creative and qualified human resources, offering a high degree of satisfaction to customers and suppliers.
VISION
Within the next 4 years, AUTOMATIZACION DE PROCESOS S.A.S. - ADeP S.A.S. will have a great participation and recognition at a continental level thanks to its responsibility and efficiency in the distribution of products and projects in the areas of automation, energy and telecommunications. The Company aims to be a national leader in the sector, providing reliable and efficient high quality processes and services, counting on the technical support of technology manufacturers, such as SIEMENS, GE-FANUC, MOELLER, HAUSSER AND ENDRESS and WONDERWARE among others.
Contact info #1
Geovanny Acevedo Rodriguez
gacevedo@automation.net.co
Clle 80 No 78-19 Piso 2, Barranquilla, Colombia
AUTOMATION PROJECTS
AUTOMATIZACION DE PROCESOS S.A.S. - ADeP S.A.S. undertakes the following automation projects:
SCADA systems Development (Supervisory Control and Data Acquisition),
Development of PLC (Programmable Logic Controller) based systems for industrial complexes,
Central Station software: data acquisition, alarm and event handling, man-machine interaction through graphic screens,
Links via radio link or cable,
Remote stations based on PC, PLC (Programmable Logic Controller) or RTU (remote terminal unit),
Diagnosis of faults in automated machinery,
Development of programs for the control and supervision of industrial processes, intelligent buildings and marine engineering,
Design, development and installation of control panels,
Installation, assembly and supply of control components, instrumentation, sensors and actuators,
Installation of sensors and transmitters of different variables (power, pressure, temperature, levels, etc.),
Upgrade and migration of PLC control systems from one generation to another,
Diagnosis of faults in control systems based on PLC's,
Removal of flat control panels,
Consulting and "turnkey" solutions in process control and industrial automation projects,
Download of software for PLC or parameters for drivers,
Backup or mirrors for PC supervisory systems,
Supply of items to download PLC programs,
Repair of electronic cards of various systems,
Training.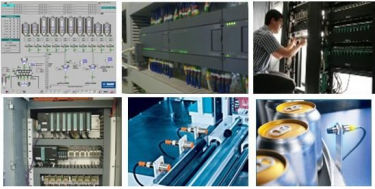 TELECOMUNICATIONS & TELEMATICS PROJECTS
AUTOMATIZACION DE PROCESOS S.A.S. - ADeP S.A.S. has the ability to undertake the following telecommunications projects:
Electronic fire-control installation, design and supply (sirens, manual stations, sensors for detecting smoke and heat), CCTV systems, access control, lighting control and temperature control systems for air conditioners.
Industrial networks supply and installation (such as: Modbus, Profibus and Industrial Ethernet, among others).
Structured cabling supply and installation.
Past-panel structured cabling and fiber optics supply and installation.
Fiber optics supply and installation.
Microwave links supply and installation.
Power management processes.
Voice networks.
Fiber optic networks.
Communication solutions.
ELECTRICAL SERVICES
AUTOMATIZACION DE PROCESOS S.A.S. - ADeP S.A.S. is able to offer the following electrical services:
Electrical installation, design and maintenance in medium and low voltage.
Design, installation and erection of electrical substations.
Installation of electrical wiring, instrumentation, etc.
Lighting systems.
Switchboards.
System earthing and shielding.
Removal of flat panel strength.
Supply and installation of pipelines, electrical wiring trays, instrumentation and industrial communication.
Dismantling, manufacture and assembly of electrical equipment: electrical transfers, starters, capacitors banks and UPS.
ADVANCED INFRASTRUCTURE
The Company has the appropriate infrastructure to provide customer support 24 hours a day and has strategic alliances in different service sectors. It employs highly trained personnel which have the expertise to guarantee the efficiency of the services provided.
Defence References
The professional team of AUTOMATIZACION DE PROCESOS & CIA LTDA. together with SEEA have participated in projects for the defense sector, such as the ARC Quitasueño and the ARC Quindio projects:
Τhe ARC Quitasueño project: A centralized and automatic monitoring system was implemented on the ARC Quitasueño vessel, including advanced monitoring equipment and software, such as ProTool, WinCC and WinCC Flexible, among others.
The ARC Quindio Project: AUTOMATIZACION DE PROCESOS & CIA LTDA. has developed a project in which a control, surveillance and monitoring system was implemented on the ARC Quindio vessel, similar to the one implemented on the ARC Quitasueño vessel. This system includes devices, such as the Siemens PLC S7-200 and S7-300 for the measuring of variables, such as the current and line and phase voltage, among others.
For more information, please refer to the 'ADEP - References' file provided on the 'General Information' tab of the present profile.
COTECMAR (Colombia)
COMUNICATION MODBUS PROFIBUS ELECTRICAL PLANT AND PLC SIEMENS
BAVARIA S.A. (Colombia)
AUTOMATION MASTER FILTERS
TRATAGUAS S.A. (Colombia)
AUTOMATION ACQUEDUCT CHIA CUNDINAMARCA
Automatizacion De Procesos S.A.S. - ADeP S.A.S.
Clle 80 No 78 19 Piso 2, Barranquilla, Colombia
+57 5 378 8536, +57 5 352 8777
+57 5 360 7571
Info@automation.net.co