Last Update
September 12, 2016
Categories
Composites, Plastics & Rubber
Services (R&D, training, engineering, consultancy, …)
Géza Norbert has been working with plexiglass since 2004. The company specializes in acrylic, as well as other types of plastic product fabrication. They have worked with a variety of companies and individuals, including sign companies, acrylic distributors, Universities, major corporations, restaurants, museums and artists.
Géza Norbert custom designs acrylic or other plastic products to fit any dimension and requirement. The company offers design consultation prior to fabrication to assure a finished product that meets customers' need. The cost is based on the amount of time and complexity of design. Géza Norbert's methods are efficient and precise, assuring the best possible workmanship, meeting customers' most stringent deadline.
Plexiglass Parts and Components
Specialty Items
• Protective acrylic boxes
• Podiums
• Restaurant Sneeze Guards
• Laboratory shields & hoods
• Display cases
• Product display stands
• Patio & Office tabletops
• Boat windshields
• Unique acrylic items
Marketing Items
• Business card holders
• Brochure holders
• Product displays
• Signs and sign holders
• Easels
• Risers
Display Items
• Fine art display cases
• Museum acrylic boxes
• Frames
• Sculpture bases
• Department store display cases
• Supermarket food bins
• Specialty product cases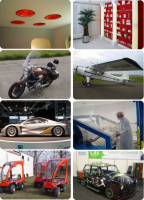 Plexiglass
Poly(methyl methacrylate) (PMMA) is a transparent thermoplastic, often used as a light or shatter-resistant alternative to glass. It is sometimes called acrylic glass. Chemically, it is the synthetic polymer of methyl methacrylate. The material was developed in 1928 in various laboratories, and was first brought to market in 1933 by Rohm and Haas Company, under the trademark Plexiglass. It has since been sold under many different names including Lucite and Perspex.
PMMA is an economical alternative to polycarbonate (PC) when extreme strength is not necessary. Additionally, PMMA does not contain the potentially harmful bisphenol-A subunits found in polycarbonate. It is often preferred because of its moderate properties, easy handling and processing and low cost, but behaves in a brittle manner when loaded, especially under an impact force, and is more prone to scratching compared to conventional inorganic glass.
Customers List
Géza Norbert customers list includes:
Decoration and Design:
• Boscolo Hotel
• Nautis Hotel
• Hotel Panoráma Siófok
• Hotel Magistern Siófok
• Rukkel Tó Water Park
Boats:
• Bluestar
• Géczy
• Stickl Yachts
• Prince Europe
• Velence E Yachts
• Nautic Boat
• Hajóbázis Kft. Base Boat
• G-Profil
Cars:
• Bóvi - Brokernet Silversting
• East Block
• Indián Design
Specific works:
• KUKA Robotics
• Siemens
• Beflex
• Auscan
• Tesco
• Tungsram
Airplanes and helicopters:
• Danubian Aircraft: Mi-2, Mi-8\17, Mi-24.
• Legendary Aircraft: Yak-9, Yak-11.
• ZLINM Z-37 Cmelak
• CESSNA 210,
• DIORA KX165 ICE PICK
• Góbé R26
Geza Norbert Plexi Design Bt.
2335 Taksony, Szent István tér 3, Taksony, Hungary
Mobile:  +3630 487 57 40 
N/A
info@gezaplexi.hu