Categories
Aircraft, Helicopter, UAV, Spacecraft & related equipment
C4I, Communication Systems
Electrical, Electronics & Electro-optics
IT, Computing and Software
Radar, Sonar, Navigation, Targeting, Surveillance
Ships, Vessels, Submarines & related equipment
JOTRON GROUP, develops and manufactures communication systems for the maritime and aero market. It is a private limited Norwegian company with more than 40 years of continuous operation in international markets allied with a sound financial base.
Aviation authorities, military governments, airport operators and airlines are some of the company's professional customers. Also offshore operators like oil and gas companies are well represented in the Jotron's reference list. Jotron has subsidiary companies in United Kingdom, Singapore and USA. Jotron AS has implemented and maintains a Quality Management System which fulfils the requirements of the ISO 9001:2008 standard.
Contact info #1
reinhardt.berg@jotron.com
Ostbyveien 1 NO-3280 Tjodalyng, Norway
MARITIME PRODUCTS
EPIRB Emergency Position-Indicating Radio Beacon (EPIRB) - In 1970 Jotron developed and installed the world's first Distress Radio Beacon on board a ship and since this time tens of thousands of Tron EPIRBs have been installed onboard a vast array of ships worldwide.
Radar Transponder - Jotron have for several years been one of the world's leading producers of SART (search and rescue radar transponder). Jotron's Tron SART is designed for use in search and rescue operations and gives the exact location of the distressed indicated on the radar X-band display of any nearby ships, SAR vessels and aircrafts.
Automatic Identification System (AIS) - Family AIS is a broadcast communication system operating in the VHF maritime band, capable of sending ship information to other ships and to shore. The Jotron AIS program consists of a full shipborne unit (TR-2500), a receiver only unit (RA-2500) and a base station unit (TR-2600).
S-VDR Float Free Storage Capsule - The Tron S-VDR CAPSULE will keep the S-VDR information available at the surface even if the vessel goes down.
VHF Radios - Jotron have in over ten years produced handheld maritime VHF radios for emergency and regular use for onboard voice communication. These radios have met the GMDSS regulations as well as distress channel for aeronautical radio systems (121.5 & 123.1 MHz).
Emergency and Marking Lights - Jotron produce a wide range of various maritime lights. Typical applications are marking of different types of fishing equipment, fish farms, offshore installations, lifebuoys, lifeboats and personal marker lights. Available are also a range of variants and/or customer made lights. Important customers are Home Office (Police, Fire brigade), Armed Forces, Search And Rescue, Oil Companies etc.
EPIRB Test Kit - Jotron have since the late eighties produced their own Cospas Sarsat EPIRB Tester. This product receives and decodes all types of COSPAS and SARSAT beacon signals.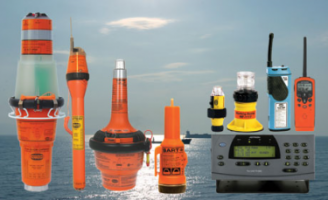 Product informational files
GROUND TO AIR COMMUNICATION
Well established, with asignificant reputation of being a provider of modern air traffic control systems, Jotron propose customer specific solutions, utilizing accessories from top-end suppliers.
VHF AM Multimode Radio - The Jotron 7000 series VHF Multimode Digital Radio, combines excellent RF performance in congested areas, with advanced digital signaling technique, to cover the future radio communication needs for civilian authorities.
UHF AM Radio - The Jotron series 3000 UHF digital radios are designed to provide ground to air communication for professional users in the air defence frequency range. The radios provide excellent audio performance together with unmatched RF performance in tough electromagnetic environments. The receiver maintains its good sensitivity even when strong locally generated signals are present on neighbor channels. The transmitter is designed to give a minimum of unwanted noise and spurious products. Delivered standard with AM capabilities, it can also be delivered with FM as an option. Another option is that both the transceiver and the receiver can be fitted with a Guard Receiver Module. This module is a separate AM receiver module, with separate audio outputs, operating on the user selectable frequencies 121.5 or 243.0 MHz.
UHF VHF Military Radio - The Jotron 4000 series defence radio system is intended for military communication applications, being designed as a multipurpose, multimode radio system covering both VHF and UHF ground to air frequency band. The 4000 series radio system meets the present and future requirements for ground to air communication. The radios are designed completely modular, with a construction for very rugged environmental conditions, fitting standard 19", 3U subracks. This defense radio system supports multimode operational requirements including AM and FM narrow band, voice and wideband data. In addition, they are prepared for MSK and D8PSK.
Power Amplifier - In certain applications, under special conditions, it might be necessary to increase the RF output power, for long range communication. For this purpose, Jotron has developed its own range of VHF and UHF Power Amplifiers. Utilizing state-of-the art technology, the amplifiers are designed with internal gain loop, providing a very low distortion and excellent gain flatness over the whole operating frequency range. Temperature controlled fan for lower noise figures and increased lifetime operation. Also containing internal bypass relays for main/stand-by and transceiver set-up, the amplifiers have internal auto switch to back-up power in case of power failure.
Remote Systems - The range of base station radios from JOTRON, are optimized for remote operation over trunk lines, LAN/WAN networks, serial interfaces or other line formats adapted or interfaced to the standards available on the radios. As radios comprising both 4W E&M and In-band signaling for audio, ie. VCCS providers can use preferred format for best system performance. Jotron's own range of remote control units, comprises units for audio, frequency selection and more sophisticated all radio access control. In addition, Jotron has its own advanced computer based Remote Access and Control System, RACS, intended for ATC or wide area control applications.
VHF AM Mobile Radio - In addition to a full range of base station radios, Jotron can also offer a compact multi purpose VHF AM transceiver. The radio is designed to be the recommended solution for applications where remote control of the radio is not needed. Flexible to AC or DC mains, with a battery pack solution. These applications are ground services at airports, vehicle installation, and portable emergency purposes. With ETSI, FCC and Marine standard approvals, this radio is also the natural choice for offshore installations, heli-decks and other applications where ground-to-air communication is essential. The unique RF technology and components conforming this high quality radio, utilize the battery capacity to a maximum.
Product informational files
PHONETECH COMMUNICATION SYSTEM
CIS 3000 Command Intercom System - CIS 3100 consists of a line of 3 different master stations; type 3100 (5ext.), type 3101 (10 ext.) and type 3102 (20 ext.), together with various quantities of substations of 9000 series. The compact design is according to DIN 144 standard sizes, harmonizing with our other models for console mounting. The front is a black touch key panel, with integrated operator switches, indicator LED`s, loudspeaker, microphone and volume control. The operation is simplex, controlled by the master station with priority. These master stations are electrically compatible with previous like 3000/3001/3002.
BTS 4000 Batteryless Telephone - System BTS 4000 is an emergency telephone system without the requirement for any external power supply. All energy required for 4-6 minutes of continuous operation is produced by the call generator. The system is equipped with a sophisticated, extremely low power amplifier with high power and low distortion output. The amplifier is integrated in one of the telephone units to reduce the installation cabling. The system may also be connected to 24 VDC power supply to ensure continuous operation under normal conditions. The system automatically switches to batteryless and emergency operation in case of mains failure. The system is based on three types of units; 4050-single line (direct call), 4060-12 lines version and 4040-24 lines version. Any configuration needs one master telephone with a built-in amplifier, either 4051-single line or 4060-12 line version. For the 24 lines version a separate speech amplifier type 4000 is needed
DICS 6100 Digital Integrated Comm. - The DICS 6100 Integrated Communication System is a digital communication system meeting all aspects of internal and external communication onboard ships. Based on the latest technology its flexible configuration is a cost effective solution for Intercom, Telephone, Public Address, Alarm, Loudhailing and Entertainment.
DICS Automatic Telephone Exchange - The Argo A1 Marine Antenna Amplifier System is designed to receive, amplify and distribute broadcasted radio and TV signals at sea. The excellent performance of the system is based on the compact and sophisticated design. The Argo A1 system is the obvious choice for vessels that require a high quality reception of weak and strong signals simultaneously when the ship is close to the coast line. Additional input for satellite S band area ( 250 - 450 Mhz ) and Video Ch 36 ( 592 - 598 Mhz ).
SPA 1500 Public Address - The SPA-1500 system is a standard marine Small Public Address system, especially designed to cover the need for PA and entertainment distribution onboard small and medium size vessels. This system has a very compact design, but promises much of the functionality of larger systems. The customers may choose between many optional functions/facilities, and thus obtain an almost tailor-made PA system.
MPA 1600 Public Address - The MPA 1600 is a marine and offshore Public Address System, especially designed to meet the requirements for PA/GA and entertainment distribution onboard ships and mobile offshore units. The system conforms to SOLAS, IMO and IEC regulations. Based on modular design and flexible configuration, the system covers a wide range of installation complexities from small single loop to fully duplicated systems utilizing total redundancy.
SR 8200 Sound Reception - The Sound Reception System SR 8200 is designed to be used on a one man operated bridge to receive sound signals from outside the wheelhouse. The system is in accordance with Det Norske Veritas (DNV) Rules for Ships, Part 6 Chapter 8 - Nautical Safety.
ARGO A1 Marine Amplifier Antenna - The Argo A1 Marine Antenna Amplifier System is designed to receive, amplify and distribute broadcasted radio and TV signals at sea. The excellent performance of the system is based on the compact and sophisticated design. The Argo A1 system is the obvious choice for vessels that require a high quality reception of weak and strong signals simultaneously when the ship is close to the coast line. Additional input for satellite S band area ( 250 - 450 Mhz ) and Video Ch 36 ( 592 - 598 Mhz )
WP 900 Wireless Paging - WP 900 Wireless Paging System has been developed to increase the accessibility and security of the crew who frequently move at work. WP 900 can be fully integrated with Phontech Communication Systems to increase the efficiency of the crew operation.
Hospital & Refrigerator Alarm - The ITCS system is designed for use onboard ships for calling from hospital and refrigerating rooms. It can be delivered as " Call from Hospital ", " Call from refrigerating Room " or " Call from Hospital and Refrigerating Room ". The System is realized using units ITC-1 (single) or ITC-2 (double) and arbitrarily numbers or peripheral units like ITCS-C!, ITCS-C2 or ITCS-C3. Can be fully equipped with signaling unit type ITCS-S and repeater for call acceptance type ITCS-R.
Round Robin - The General Purpose Round Robin system is a one-to-all headset conference communication system. It is based on one centralized amplifier, and a various number of headset and plug boxes. The maximum number is not recommended to exceed 12, but in some applications this might not apply.
Loudspeakers
Signal Equipment
Product informational files
Jotron A.S.
Østbyveien 1 NO 3280, Tjodalyng, Norway
+47 3 313 97 00
+47 3 312 67 80
sales@jotron.com