Last Update
August 24, 2018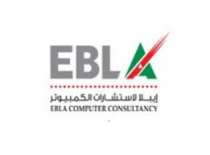 Categories
EBLA Computer Consultancy Company, is a privately owned Kuwaiti Company established in 1993 with branch offices in:
Qatar,

UAE (Abu Dhabi & Dubai),

Saudi Arabia,

Bahrain,

Jordan, and

Egypt.
The main focus of the company is to provide IT solutions and IT Consultancy and Professional services to its customers. Its mission is to provide clients with the expertise, the deployment, energy and motivation to solve their complex business issues through the utilization of technology and effective business processes.
EBLA is a leading Gold certified Microsoft Large Account reseller and service provider for the Government sector in Kuwait and in Qatar and has been awarded the distinction of being an Advanced Infrastructure solution partner for Microsoft. EBLA is also a master Value Added Reseller for FileNet Enterprise Content Management solutions in the Gulf Countries and is an enterprise solution partner for Messrs. Computer Associates (CA) for their System Management and Security solutions.
Focus & Target Markets
The company provides IT solutions and professional services to its customers in the following main areas:
Enterprise Information portal and Collaboration solutions using Microsoft technologies.

Enterprise Content Management solution using FileNet and associated products on Microsoft platform.

System management, Access management and Security solutions using CA and Citrix solutions.
EBLA's business success and growth in the last few years can be attributed to its relentless focus on these solutions from the very inception of the company.
Solutions & Services
Enterprise Solution Development – Microsoft
EBLA specializes in the following enterprise solutions:
Enterprise Portals, B2B, e-Solutions and e-Services.

ePayment solution.

Business Intelligence and Data Warehousing.

Web Services.

Enterprise Workflow.

Content and Document Management.

Enterprise Application Integration.

Intranet Solutions for Collaboration.

Business Process Automation.
Enterprise Content Management solutions – FileNet
In today's cost conscious competitive business environment, gaining control over your business information is not optional. Some estimates mark the level of unstructured information (files, e-mail, multimedia, test, forms, records, and other documents) at more than 80% of all information generated within an organisation today.
EBLA offers the world leading FileNet ECM solution to its customers who are looking to leverage the value of the unstructured information to run their businesses more competitively. FileNet solutions enable business critical applications in client server or web-based and enterprise portal environments that extends document management functionality to a broad range of strategic business processes.
With the combination of content, process and connectivity, FileNet ECM solutions allow customers to build and sustain competitive advantage by managing content throughout their organization, automating and streamlining their business processes, and providing the full-spectrum of connectivity needed to simplify your critical and everyday decision-making.
Software Development
EBLA engages in development of bespoke software solutions for its customers based on their specific requirements. The company follows tested and proven methodologies in all stages of development cycle, as follows:
Customer requirement Analysis.

Assess customer's current infrastructure and manpower skills.

Architect and design the Solution.
Professional Services
EBLA provides a range of professional services to its customers in the following areas:
Project Management.

System integration.

Solution Architecting.

Business Analysis and System Analysis/Design.

Development and Testing.

Customer training.

Professional support services including 24X7.

Consulting on disaster recovery, business continuity planning, data warehousing, business intelligence, e-business and a host of other areas.

Professional manpower services.
EBLA References & Case Studies
EBLA currently has over 70% share of the ECM market in Kuwait and Qatar and is rapidly expanding its presence in the other countries of the region. EBLA is the Microsoft Gold Certified partner for the entire Government sector in Kuwait and in Qatar, and has been responsible for delivering, deploying and supporting Microsoft desktop and server licenses at all Government sites in these two countries (more than 20,000 PCs in Kuwait and about 15,000 PCs in Qatar at this point).
EBLA Computer Consultancy Company - شركة إيبلا لاستشارات الكمبيوتر
14th Floor, Behbehani Building, Kuwait, Kuwait
(+965) 22426273, (+965) 22426274
(+965) 22429234
info@eblacorp.com