Last Update
August 29, 2018
Categories
The WJ Towell group (established in 1866) had started its operations in Kuwait in 1948. This is one of the oldest business houses in the Middle-East and has its Headquarters in Oman. They have varied interests in all major sectors of the economy of the region, such as Finance, Insurance, Shipping, Engineering, Automotive, Manufacturing, Construction, Real Estate, Telecommunications etc.
In 1975 the Banking Machines Division was formed, for the purpose of selling and maintaining banknote counting and coin counting machines to the various financial institutions in Kuwait. The good-will and reputation built up by the division, as a reliable supplier of quality machines with prompt after sales service, soon enabled them to achieve a near total monopoly in the market. During the following years, this division also started selling other electronic equipments such as digital weighing scales, strapping machines, tying machines etc.
Numerous Label Printing Scales were sold to various supermarkets, and these required a steady supply of label rolls. In order to cater to the ever-increasing requirement of the supermarket scale label rolls, a Printing Division was started in 1987, as a sub-division of the Banking Machines Div.
After the liberation of Kuwait in 1991, all the technical divisions of the Kuwait operations of WJ Towell started functioning under the name of METCO (MIDDLE EAST TELECOMMUNICATIONS CO.) METCO essentially consisted of:
Telecom Division - (continues to operate in Kuwait under the name of METCO),
Computer Division - (presently operating in Oman under the W J Towell group),
Banking Machines & Printing Division.
In order to encompass the ever-expanding activities of the Banking Machines Division, it was reconstituted in 2004 as SULTAN INTERNATIONAL ELECTRONICS CO. The Printing Division was renamed SULTAN INTERNATIONAL PRINTING CO. Along with SULTAN-TRIVENI PACKAGING, and the proposed SULTAN PROJECTS, they form the SULTAN INTERNATIONAL GROUP.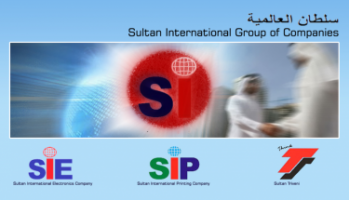 Sultan International Co. - شركة سلطان العالمية للإلكترونيات
PB 595, Farwaniya 81016 Kuwait, Kuwait, Kuwait
(+965) 24759755
+965 2 473 4320(+965) 24734320, 4713485
info@sultan-international.com