Last Update
November 10, 2020
Categories
IT, Computing and Software
Other Aerospace, Defence and High Technology related companies
JAIME TORRES C. Y CIA S.A., is a company that provides data processing services, enabling institutions and private companies to incorporate world-class technological processes that streamline business management.
JAIME TORRES C. Y CIA S.A. has been the first choice among financial and governmental, as well as commercial and health institutions, for its ability to support data processes and has been accredited under the ISO 9001:2000 and ISO 27001:2006 certifications for Quality Management and Information Security.
MISSION
JAIME TORRES C. Y CIA S.A. is a company specialized on mass data processing, using special proprietary software for data capture and processing, scanning and other processes with guarantee on quality and security of information.
VISION
JAIME TORRES C. Y CIA S.A. aims to be known as a company specialized in information processing and telecommunications, focused on satisfying customers' needs in an effective and efficient manner.
Please visit the Link for Company's Video Presentation
Contact info #1
Cra 26 No. 61-c-07 Bogota D.C. Colombia
Information Processing
JAIME TORRES C. Y CIA S.A. offers information processing services, dealing with high volume information and developing effective systems and processes that guarantee the quality and safety of the information provided.
JAIME TORRES C. Y CIA S.A. specializes in:
Repetitive tasks,

High volume data processing,

Electronic payments,

Document custody and storage.
Processing Tax Documents
JAIME TORRES C. Y CIA S.A. provides outsourcing services to tax collecting agencies, such as banks and other financial and governmental institutions.
The Company offers comprehensive outsourcing services, such as tax collection, receiving, recording and processing, according to the agreements established by the Colombian tax administration institutions.
JAIME TORRES C. Y CIA S.A. ensures the quality and security of information, fulfilling the highest demands of institutions, regarding tax management.
Social Security Processing
JAIME TORRES C. Y CIA S.A. is currently in partnership with the company ASOPAGOS S.A., in order to offer information management solutions to institutions, companies and individuals, such as web data gathering and payment routing to facilitate the realization of social security payments through electronic transfers.

Document Digitizing
JAIME TORRES C. Y CIA S.A. digitizes taxation documents, in order to avoid the damage of information, as follows:
Images and information recording in a secure database,

Indexing,

Querying,

CD burning,

Software for image viewing,

Data access restrictions, according to user permissions.
Bancasoft Software
Bancasoft is a system platform for payment collection, especially used from financial institutions. The software can incorporate any type of transaction without resorting to additional programming processes. More specifically, Bancasoft is ideal for tax, utilities, education, health, subscription and other types of payments.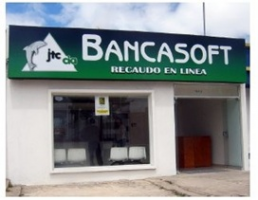 Experienced Personnel
The Company has trained personnel with extensive experience in information technology and infrastructure, providing high quality and reliable services in compliance with the current legislation and ensuring the fulfillment of clients' commitments.
Clients
Many financial and governmental institutions have chosen JAIME TORRES C. Y CIA S.A.'s infrastructure, human talent and technology to support their data processes, namely:
Banco HSBC,

Banco DAVIVIENDA,

Banco Bogota,

ASOPAGOS,

Banco BBVA,

Banco SUDAMERIS,

SCOTIABANK,

COLSEGUROS.
Jaime Torres C. & CIA S.A.
Cra 26, No. 61 c 07, Bogota D.C., Colombia
+57 1 487 7853
(57) (1) 235 4107
empresa@jaimetorres.net