Last Update
April 22, 2019
Categories
Services (R&D, training, engineering, consultancy, …)
ACOPI BOLIVAR, is a nonprofit association founded in Colombia in 1951 and dedicated to the support and promotion of micro, small and medium enterprises, by providing them with strategic business opportunities and resources, facilitating their establishment in the national market.
The Colombian Association of Small and Medium companies known as ACOPI BOLIVAR is a result of the merger of various entities with similar industrial activities in the region of Bolivar. ACOPI BOLIVAR was established in order to represent and unify the MSMEs, ensuring their needs, duties and legal representation and contributing to their improvement and industrial development.
ACOPI BOLIVAR is being supported by higher education institutions in Cartagena, dedicated to the provision of research projects for the identification of MSMEs weaknesses and opportunities.
The Association develops initiatives in order to encourage entrepreneurship, competitiveness, productivity and growth within the MSMEs by creating new work positions, hand in hand with the policies of the business development committee of the Ministry of Commerce, Industry and Tourism.
MISSION
ACOPI BOLIVAR is a nonprofit association aiming to contribute to the productive transformation of the micro, small and medium enterprises into leaders that are able to play a significant role in the design of government policies and sectoral strategies.
VISION
ACOPI BOLIVAR aims to be recognized politically and socially as a prestigious association of the Caribbean region, thanks to its leadership and government policies that facilitate competitive growth and development of the micro, small and medium enterprises in all productive sectors.
STRATEGIC MANAGEMENT
An essential part of ACOPI BOLIVAR's strategic goals is to provide its members with a wide portfolio of services aiming at increasing organizational productivity:
Legal and general representation to micro, small and medium enterprises,

Business development and formalization,

Development of the MSMEs through Trade Union Consolidation and Business Development programs,

Provision of information on the MSMEs in the region of Bolivar.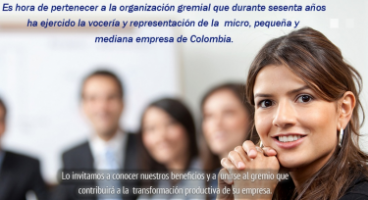 Contact info #1
Dr. Francisco Jose Hernandez Rojas
+57 5 660 5764 +57 5 660 5706
Calle del bouquete Cra. 21 No 25-92, Isla de Manga, Cartagena de indias D.T y C, Colombia
Business Development Programs
ACOPI BOLIVAR is dedicated to the strengthening and development of the MSMEs through Trade Union Consolidation and Business Development programs. More specifically, the "PRODES - Programas de Desarrollo Empresarial Sectoriales" program is a strategic development program that for the last 15 years has been leading ACOPI BOLIVAR into the process of integration of the MSMEs into additional sectors and regions in order for them to face globalization demands. PRODES ensures the continuous improvement of the MSMEs, promoting associativity, productivity and competitiveness at the same time.
Consulting & Technical Assistance Services
Through ACOPI BOLIVAR, MSMEs can benefit from a series of consulting and technical assistance services, such as:
Business Coaching,
Supply Chain,
Strategic Planning,
Innovation Management,
Strategy and Marketing,
Human Resource Management,
Legal management.
Education & Training Programs
ACOPI BOLIVAR provides the MSME's with education and training programs, such as open courses, seminars and workshops as per the company's requirements. The Association is also offering training and support on quality management and certification processes.
Representation Services
ACOPI BOLIVAR is successfully representing a wide range of MSMEs at national and international business events, fairs and congresses:
Consejo gremial de Bolívar - CGB,
Comisión regional de Competitividad - CRC,
Consejo Directivo del SENA,
Consejo Superior UTB,
Consejo Directivo CERES,
Red de Inclusión Productiva,
Red Regional de Emprendimiento,
Comité Universidad-Empresa-Estado,
Alianza CERES,
Zona de Actividad Logística ZILCA,
Alianza Cartagena,
Subcomisión de Política salarial y laboral,
Comité Mixto de Gestión Tributaria,
Mesa de articulación Montes de María,
Comisión departamental de ciencia y tecnología,
Consejo Regional MIPYME.
Additional Services
ACOPI BOLIVAR offers additional business services, such as:
Commercial discounts among its members,
Discounts on the rental of auditoriums for social and business events,
Agreements with academic institutions,
Business practices, internships and apprenticeships,
Corporate image establishment,
Promotional services.
ACOPI Bolivar
Calle del bouquete Cra. 21 No 25 92, Isla de Manga, D.T y C, Cartagena, Colombia
+57 5 660 5764, 315 7348999