Last Update
September 14, 2018
Categories
IT, Computing and Software
Services (R&D, training, engineering, consultancy, …)
IFS NORGE AS, is a public company (OMX STO: IFS) founded in 1983 that develops, supplies, and implements IFS Applications™, a component-based extended ERP suite built on SOA technology. IFS focuses on agile businesses where any of four core processes are strategic: Service & asset management, manufacturing, supply chain and project. The company has 2,000 customers and is present in more than 50 countries with 2,700 employees in total. Net revenue in 2009 was SKr 2.6 billion.
At IFS, being global means never being far away. Through solid industry knowledge and customer participation in product development, it always stay close to the changing reality of its customers. And with over 20 support centers all over the world, help is always near.
IFS Applications is a truly global product—with a truly global organization to implement it. More than 50 offices around the globe and a worldwide infrastructure for services and support make IFS a reliable partner in global implementation projects.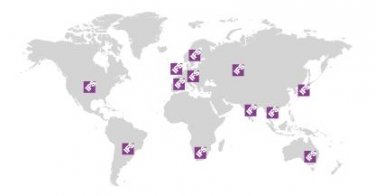 Contact info #1
Director Nordic, CEE & Israel
Skysstasjonen, 11 Stasjonskvartalene PO Box 3, N-1371, Asker, Norway
SERVICES
The company provides a range of services that maximize returns on the investment in IFS Applications. The company's cost-efficient implementation methodology makes sure that the new solution is up and running on-time and on-budget—with transparency and control throughout the process.
Continuous access to training materials via our e-Learning materials means that the employees can use role-based training to enhance their competence and help stay competitive.
IFS's support concept enables to stay in control by allowing step-by-step adoption of new functionality and technology. And it's local—with global back-up when required.
OpenIFS, online community, gives customers and partners the opportunity to communicate with each other and with IFS to discuss issues of interest.
Getting close to the customers is important to. User groups are independent forums in which the customers meet to discuss trends and details with each other. The company's advisory councils exist in various industries to give customers there the chance to share their views on future trends and requirements.
SERVICE MANAGEMENT
IFS has acquired the world's leading provider of mobile workforce scheduling, 360 Scheduling.
Give customers the best possible service

Retain complete operational control

Maximize field staff utilization
Integrated with IFS Applications or standalone, 360 Scheduling intelligently adjusts the daily work plan and optimizes assignment allocation based on own parameters and prerequisites.
EAM
The company could build a website for its best-of-breed, world-class asset management solutions alone and write about collaborative asset lifecycle management from design and engineering through maintenance to decommissioning. It could detail its solutions for ALM, EAM, OEE, and describe minutely how it can increase asset reliability, launch predictive maintenance strategies and cut maintenance costs. And that's just some of its areas of expertise.
But that would only be part of the story. The company's track record is equally important. IFS Applications has been around for almost three decades and saw the light of day in the asset management sector. It was designed not just for, but to a great extent by, the industry. It has seen mergers and demergers, deregulation, greater demands on asset and workforce optimization—and helped companies all over the world to turn these challenges into profit-making opportunities.
MRO
Looking for an application that can manage a performance-based logistics contract or manage your fleet? Like to offer higher levels of fleet availability and force readiness? Need better planning and scheduling capabilities coupled with better cost and progress control to manage resources across all ongoing shop visits? Looking to increase predictability for when units can be returned to service? Or are you doing sub-assembly repair and overhaul and haven't found an application that meets the demands?
Services informational files
FULL SUITE ERP
User-friendly software that makes your business more agile
A single, user-friendly product with a single purpose in mind—to make business more agile. IFS Applications helps manage—and streamline—4 core processes: service and asset, project, manufacturing and supply chain. And gives a full suite of ERP software that lets turn business challenges into business opportunities.
TANGLE-FREE NAVIGATION
With IFS Applications advanced navigation options can easily find the way around the entire ERP solution in a quick, tangle-free way.
Works like a web browser

Spend less time navigating

Spend more time doing

Take care of your business instead of your enterprise software
TAKE SEARCHING OUT OF THE DARK AGES
With the advanced Enterprise Application Search in IFS Applications can scan an entire enterprise's data in no time.
Perform Google-like searches

Get results categorized

Built in security

Save time. Take care of your business instead of your enterprise software
PERFECT FOR STICKY SITUATIONS
The "sticky notes" in IFS Applications make it easier to find, share and use both structured and unstructured information.
Makes sure no information gets lost

Enterprise data visible in relevant business context

Share information with colleagues

Save time. Take care of your business instead of your enterprise software
SMOOTHING THE LUMPS OUT OF MASH-UPS
IFS Applications has built-in possibilities to incorporate external resources from anywhere, right into the correct page and data in the application.
Data from IFS Applications can be combined with, for instance, Microsoft Bing Map

The mash-up, IFS Virtual Map ,helps you keep track of your mobile work force

Save time. Take care of your business instead of your enterprise software
WITH A PERSONAL TOUCH
With IFS Applications can customize a client's own set-up to suit its level of competence and select only the tools the client needs.
Adapt to a working environment, from the color of the screen to the amount of icons displayed

Open one window, or multiple—the choice

Save time. Take care of the business instead of the enterprise's software
IFS Board - Collaborative Learning
The IFS Board improves team collaboration. Similar to networking sites' 'walls' (Facebook, Twitter), users can post messages or 'Scribbles' on the IFS Board to share information or ask a question. All information captured is secure and only accessible by IFS users within IFS Applications. Users can post directly to the Board without having to exit the system they're in and all posts automatically embed a link to the specific data query to ensure each retains its context. Posts can also be searched by subject and groups can be set up according to target audiences. Everything can be filtered within the Board, so all information is easily accessible and stored appropriately.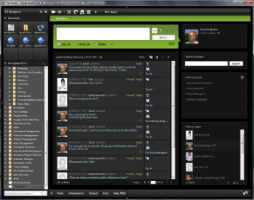 SOME OF THE CUSTOMERS
Amphenol Alden
AOA
Armatury
Aweta
Babcock BES
Banss
Banverket Industrial Division
Barking Power Station
Bergen Group Rosenberg
Bolix
Bonatrans
Bristan
Bristow Group Inc
Sky
Butchers Pet Care
Bygg Max
Ching Ford
CDF
Debut Services
GEA Pharma Systems Ltd.
Graal
Holmen Paper Braviken
IN Neoteric
Indah Water Konsortium Sdn Bhd
Lagena
Paradyz
PL MPK w Krakowie
Prodrive
PT Pal
Rotary Engineering
SCA
SSAB
IFS Norge AS
Skysstasjonen 11, PO Box 3, Zip N 1371, Asker, Norway
+ 47 404 85 956
+47 66 90 73 01