Last Update
July 31, 2020

Categories
Mechanical, Electro-mechanical, Hydraulic and Pneumatic components
Military, Tactical, Logistic Support Vehicles & related equipment
INDUSTRIAS PARTMO S.A., is a Colombian company, founded in 1962 and located in Bucaramanga, dealing with industrial services business activities. The Company has been a leading Colombian manufacturer of quality products for the automotive, diesel, agricultural, industrial and filter markets for more than 50 years.
INDUSTRIAS PARTMO S.A. has a clear commitment to the prevention of pollution, in compliance with applicable environmental laws and regulations, through the promotion and development of awareness in all areas of the company.
The Company has been certified under ISO 9001:2008, and 14001:2004 Quality Management Certifications.
MISSION
INDUSTRIAS PARTMO S.A. aims to meet the needs and desires of its customers in the field of filtration and related products, maintaining an organizational innovation climate and fostering employee commitment.
VISION
INDUSTRIAS PARTMO S.A. is addressing its efforts towards diversification, integration and creation of strategic alliances, being a leader in the provision of filtering services and/or distribution of related products.
Contact info #1
Natalia Carolina Villarreal Breton
Marketing & Sales Assistant
Km 7 Via Palenque, Parque Industrial 2, Bucaramanga, Colombia
Fuel, Air & Hydraulic Filters
INDUSTRIAS PARTMO S.A. produces all kinds of oil, fuel, air and hydraulic filters for almost all car, truck, bus, and heavy duty OEMs, namely:
Motor oil filters,

Partial flow (by-pass) filters,

Dual flow filters,

Diesel fuel filters,

Water separator fuel filters,

Oil separator filters,

Hermetic sealed filters,

Wire mesh filters,

Fuel injection filters,

Car air filters,

Hydraulic filters.
The Company exports its products to thirteen countries, namely, the U.S., South Africa, Mexico, Costa Rica, Honduras, Dominican Republic, Venezuela, Chile and Ecuador.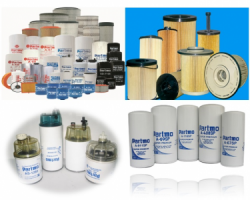 Industrias Partmo S.A.
Km 7 Via Palenque, Parque Industrial 2, Bucaramanga, Colombia
+57 7 644 3775 / +57 317 645 6045 / +57 315 671 4609