Last Update
January 17, 2020
Categories
Aircraft, Helicopter, UAV, Spacecraft & related equipment
Services (R&D, training, engineering, consultancy, …)
ENCODE AVIATION LTDA., is a Colombian company that provides aeronautical engineering services in compliance with AECMA and ATA standards. ENCODE AVIATION LTDA.'s activities focus on engineering development and construction projects. The Company is backed by experienced engineers and cutting-edge software for the design of computerized models and the analysis through finite elements of aeronautical projects. ENCODE employs civil, mechanical and electronic engineers, as well as experienced aeronautical engineers for the improvement and optimization of aircraft processes.
ENCODE Aviation's professionals are dedicated to the design and development of infrastructure and telecommunications projects, aerodromes, hangars, heliports, test benches, wind tunnels and 3-6-9 axes flight simulators, as well as the provision of support services related to SMS (Safety Management Systems), legislation and international regulations.
ENCODE Aviation also specializes on aeronautical studies for the development of infrastructure, such as air traffic control towers and buildings, as well as engineering analyses with the support of the Center for the Study of Aeronautical Sciences (CEA).
Contact info #1
pablo.contreras@encode.com.co
Tv 85G N° 24C-26 Interior 3 Oficina 213, Bogota, Colombia
Contact info #2
Business Development Manager
julian.rosero@encode.com.co
Tv 85G N° 24C-26 Interior 3 Oficina 213, Bogota, Colombia
Contact info #3
maycol.escorcia@encode.com.co
Tv 85G N° 24C-26 Interior 3 Oficina 213, Bogota, Colombia
Contact info #4
fernando.santana@encode.com.co
Tv 85G N° 24C-26 Interior 3 Oficina 213, Bogota, Colombia
Aviation Infrastructure Development
ENCODE AVIATION LTDA., specializes in the design of:
Aerodromes,
Heliports,
Hangars,
Related infrastructure works.
The hangars and heliports can be designed in the following configurations: portable and marine (lightweight metal structures ideal for ports, ferry terminals and vessels) for public or private use.
These designs comply with ICAO (International Civil Aviation Organization) and FAA (Federal Aviation Administration) regulations, as well as national standards, such as these of UAEAC (Special Administrative Unit of Civil Aeronautics) for the design of aviation infrastructure.
The Company's engineers analyze the specific needs of their customers, assisting them in choosing the location, size and infrastructure for the construction of aerodromes, considering the possibility of future expansion.
The technical studies conducted by ENCODE AVIATION, include the following:
Wind analysis,

Study of flight weather conditions,

Definition of reference temperature,

Definition of obstacle limitation surfaces (OLS) applicable to the aerodrome, paying special attention to power lines, antenna towers and other objects in the surrounding environment,

Study and detailed design of the physical and geometrical characteristics of the heliport,

Study of signals and other visual aids, as well as description of the characteristics and dimensions of the elements used,

Fire protection planning and implementation,

Study of takeoff and landing procedures,

Communication system for the transmission/submission of flight plans.
Consultancy Services
ENCODE AVIATION LTDA. offers the following services:
Consultancy & advisory services on aeronautical legislation and regulations,

Consultancy & advisory services on the design of aerodromes for companies active in the public, private and military sectors,

Consultancy & advisory services on aircraft acquisition and implementation of new technologies,

Consultancy & advisory services in the following stages: Planning, pre-feasibility, feasibility and detailed design of aviation infrastructure projects,

Consultancy & advisory services on aviation engineering, reengineering and reverse engineering processes.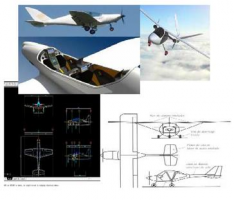 Fumigation & Crops Analysis
Fumigation: ENCODE AVIATION LTDA. is able to perform aerial spraying on various crops (rice, banana, cacao, sorghum and corn fields), etc., with the use of Quicksilver ultra-light aircraft. Among the aerial spraying services are:
Herbicides spraying,

Insecticides spraying,

Fungicides spraying,

Fertilizers spraying.
With the support of specific equipment and photometric sensors, ENCODE AVIATION LTDA. is able to perform analyses related to:
The total amount of acres sprayed,

Analysis of crop growth,

Analysis of irrigation efficiency,

Monitoring and evaluation of procedures.
Aviation Equipment for Training Purposes
Being a Company involved in the development of small and large projects, ENCODE AVIATION LTDA. designs systems and components for aeronautical research purposes.
ENCODE AVIATION LTDA. engineers develop all types of training equipment for aviation personnel, such as:
Wind Tunnels: the Company designs wind tunnels for the study and analysis of aerodynamics, implementing high speed imaging tools to study/analyze vortices and wind vector changes.
Flight Simulators: ENCODE AVIATION LTDA. is dedicated to the design of flight simulators for training purposes, namely, 2, 3, 6 and 9 axis electro hydraulic simulators, as well as the installation of virtual reality environments and all the related flight operation equipment.
Test Benches: ENCODE AVIATION LTDA. has the capability to design test benches to satisfy the needs of aeronautical workshops in Colombia, as well as abroad. This equipment complies with all the related international regulations.
Ultra-Light Aircraft
The Company specializes in the design and development of ultra-light aircraft with the support of qualified engineers with experience in aerodynamics, dynamics, material and fluid mechanics, thermodynamics, power plants, structures, avionics systems and aviation legislation, among others.
Feasibility studies: Study of the market and scope of project.

Analysis of parameters: Aircraft configuration and preliminary design.

Weight estimation of the structure, components, systems, control equipment and crew, among others.

Initial planning of aircraft size: fuselage, structures and other components.

Aerodynamic studies: graphical analysis, detection and analysis of parasitic, induced and total drag.

Speed analysis.

Calculation of longitudinal static stability: CG (Center of Gravity) calculation, downwash analysis, neutral points, total lift coefficients.

Cost analysis: engineering support and production costs.
Comprehensive Technical Analyses
ENCODE AVIATION LTDA. has the capability to perform comprehensive technical analyses as follows:
Customer requirements: analysis of customers' needs, overall project planning, feasibility studies, cost analysis, analysis of regulations and quality management.

Structural analysis: analysis of the structural configuration (fuselage, components, joints, wings, surfaces, landing gear), analysis of materials (metals, composites), flexion tests, shear and torsion tests, stress analysis and identification, fatigue analysis of structures and material, and damage tolerance studies.

Finite element analysis: properties of materials, analysis of stiffness matrices and actuating forces and matrix analyses.

Structural loading analysis: establishment of the actuating forces, nonlinear problem analyses, morphing aircraft structure, analysis of materials (metal and composites), and analysis of results.

Structural design: structural design and sizing of components or structure.

Presentation of the project: final presentation of the structure or components, security analysis and compliance with international regulations, environmental impact analysis and project implementation.
Encode Aviation Ltda.
Tv 85G # 24C 56 int 3 Oficina 213, Bogota, Colombia
+57 1 704 2040
N/A
contacto@encode.com.co