Last Update
September 5, 2018
Categories
Services (R&D, training, engineering, consultancy, …)
TECNICONTROL S.A., was established in 1973 in Bogota, Colombia in order to address the needs of the market for specialized services in the metallurgical, construction and oil sectors.
The Company's added-value services are focused on the monitoring and control of the quality assurance processes of the client company through the qualification and certification of its processes using the latest equipment and technology.
Mission
TECNICONTROL S.A., is an engineering company that provides advanced solutions to the general industry, with the support of qualified human talent and the use of advanced technologies, always with social and environmental responsibility.
Vision
The Company aims to be positioned in the Latin American region as a leader in the provision of engineering and consulting services for the general industry. TECNICONTROL S.A. has developed personnel qualification and certification programs, so as to ensure their competencies in the following areas:
Mechanical joints (aimed for operators, supervisors and inspectors):
• Flanges,
• Clamp connections,
• Hammer unions,
• Tubing unions,
• Threading unions,
• Boilers, valves and pumps.
The Company serves the general industry and more specifically the following sectors:
• Communications sector,
• Electrical sector,
• Hydrocarbons sector,
• Environmental sector,
• Mining sector,
• Civil engineering sector.
Contact info #1
+57 1 667 1444, +57 1 676 0831, +57 1 676 0825
Inspection Director of Cranes & Lifting Equipment
Autopista Norte Km 19 Costado Occidental, Centro Empresarial TYFA, Chia, Colombia
Contact info #2
+57 1 667 1444, +57 1 676 0831, +57 1 676 0825
Autopista Norte Km 19 Costado Occidental, Centro Empresarial TYFA, Chia, Colombia
Quality Assurance Services
TECNICONTROL S.A., foreseeing the need for quality assurance in the operation of equipment has transformed this opportunity into a business unit that is equipped with qualified inspectors for this process. The Company is certified under the North American Crane Bureau Inc. (NACB) and the ASME/ANSI and OHSA standards for the provision of the following services:
• Inspection and certification of mobile cranes,
• Inspection and certification of lifting equipment,
• Training of operators and supervisors,
• Certification courses,
• Safety training courses.
Additionally, TECNICONTROL S.A. designs and implements quality assurance management certifications, according to customers' specific needs, in order to correct problems and avoid incidents that might cause injuries or damages to the personnel or the equipment involved.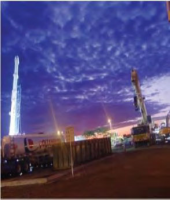 Equipment
TECNICONTROL S.A. is equipped with leading edge inspection equipment, such as:
• 3 AUT equipment/systems,
• 19 SAUT equipment/systems,
• Conventional UT equipment,
• Wall thickness equipment,
• 1 LRUT - Wavemaker G3 from GUL,
• 1 tank floor inspection equipment,
• 1 dual frequency GPS,
• 1 IR thermography camera,
• 1UV camera for UV inspections,
• 2 vibration analysis systems,
• 20 holiday detectors,
• CIS and DCVG systems,
• ILI MFL and caliper tools (12", 16" y 20").
Clients
Among the Company's most prominent clients are:
• BJ SERVICES S.A.,
• BAVARIA S.A.,
• BECHTEL INTERCONTINENTAL CORPORATION,
• BRITISH PETROLEUM EXPLORATION COMPANY (COLOMBIA) LTD.,
• CHEVRON TEXACO PETROLEUM COMPANY,
• COMPAÑIA OPERADORA DE GAS DEL AMAZONAS S.A.C. – COGA (Perú),
• CORPORACIÓN ELECTRICA DE LA COSTA ATLANTICA S.A. ESP - CORELCA,
• DOW QUIMICA DE COLOMBIA S.A.,
• EMPRESA COLOMBIANA DE GAS S.A. – ECOGAS,
• EMPRESA COLOMBIANA DE PETROLEOS - ECOPETROL S.A.,
• EMPRESA DE ACUEDUCTO Y ALCANTARILLADO DE BOGOTA,
• EMPRESA DE ENERGÍA DE BOYACA S.A. E.S.P.,
• EMPRESA PUBLICAS DE MEDELLÍN E.S.P.,
• EQUIPO DE SERVICIOS PETROLEROS LTDA.,
• FEDEMETAL,
• FERROVIAS
• GAS NATURAL S.A. E.S.P.,
• GULF INTERSTATE ENGINEERING (USA),
• HALLIBURTON LATIN AMERICA S.A.,
• HOCOL,
• INDUPALMA,
• INGENIEROS CIVILES ASOCIADOS - ICA,
• INSTITUTO DE DESARROLLO URBANO DE BOGOTA – IDU,
• INTERCONEXIÓN ELÉCTRICA S.A. - ISA,
• INTERNATIONAL COLOMBIA RESOURCES CORP - INTERCOR,
• LASMO OIL LIMITED,
• MONOMEROS COLOMBOVENEZOLANOS,
• MORRISON KNUDSEN INTERNATIONAL Co. INC.,
• OCCIDENTAL DE COLOMBIA - OXY,
• OLEODUCTO CENTRAL S.A. - OCENSA,
• OLEODUCTO COLOMBIA S.A.,
• OLEODUCTOS DE CRUDOS PESADOS - OCP (Ecuador),
• PARKER DRILLING,
• PETROBRAS COLOMBIA LIMITED,
• PETROBRAS INTERNATIONAL BRASPETRO B.V.,
• PETROLEUM TESTING SERVICES,
• REPSOL YPF VENEZUELA, S.A. (Venezuela),
• SCHLUMBERGER,
• SCHRADER CAMARGO S.A.,
• TECHINT INTERNATIONAL,
• TERMOGUAJIRA,
• TERMOTECNICA S.A.,
• TIPIEL S.A.,
• TRANSGAS DE OCCIDENTE,
• TRANSPORTADORA DE GAS DEL PERU (Perú),
• UNILEVER ANDINA,
• WILLLIAM BROS - WILLBROS.
Tecnicontrol S.A.
Calle 72 No 7-82 Floor 3, Bogota, Colombia
+57 1 667 1444, +57 1 676 0831, +57 1 676 0825
+57 1 676 0794