Categories
Composites, Plastics & Rubber
Military, Tactical, Logistic Support Vehicles & related equipment
Services (R&D, training, engineering, consultancy, …)
THERMOFORM S.A., is a Colombian company founded in 1977 and located in Bogota, Colombia. Since its foundation, the Company has been working on the development of new products for new markets and has been continuously investing in innovative ways to transform ideas into cost efficient solutions for the automotive and industrial sectors.
THERMOFORM S.A. specializes in the development of engineering plastics, for applications in various market sectors, such as the construction, automotive, furniture, agricultural and recreational sectors, among others.
MISSION
THERMOFORM S.A. offers comfortable and aesthetic solutions that satisfy customers' different needs with responsibility and respect towards the environment.
VISION
The Company aims to grow steadily diversifying its product and services portfolio towards innovation.
VALUES
Ethics,
Responsibility,
Quality in products and processes,
Leadership,
Commitment,
Personal Development,
Honesty.

Contact info #1
thermoform@thermoform.com.co
Via Cajica Zipaquira Km 4, Bogota, Colombia
Products for the Automotive Sector
THERMOFORM S.A. develops plastic parts for the automotive sector made of different thermoplastic materials and designed according to customers' specific needs. The Company's portfolio includes products, such as:
• Door panels,
• Carter protectors,
• Consoles,
• Interior lining,
• Bumpers,
• Engine covers,
• Fenders.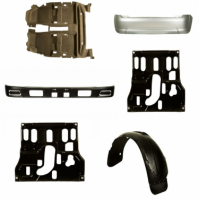 Tapestry
THERMOFORM S.A. specializes in the manufacture of automotive and furniture tapestry, in specifications given by the clients. THERMOFORM's tapestry is made of different thermoplastic materials, according to the customer's needs. Some of the developed products are: back supports for chairs, cushion covers and other thermoformed plastic components.

Solutions for the Construction Sector
THERMOFORM S.A. designs and develops high density polyurethane washtubs with the following characteristics:
• Light structure,
• Drain included,
• Resistant to solvents,
• Available in white and other colours according to customers' requirements.
Plastic Baskets
THERMOFORM S.A. designs and develops baskets for the transportation of flowers and other agricultural products. These products are manufactured in high density polyethylene materials allowing for the transportation of different items.
Features:
• Un-deformable,
• Long life material,
• Option for perforating material,
• Metallic support.

Clients
Among the Company's most prominent clients are:
• GENERAL MOTORS,
• SOFASA RENAULT S.A.,
• TOYOTA DE COLOMBIA,
• MAZDA,
• MITSUBISHI,
• FORD MOTOR COMPANY,
• CONSTRUCTORA AMAYA-AMAYA,
• SERIES INTERNATIONAL,
• C.I FLORES DE FUNZA,
• C.I FLOR AMERICA,
• C.I. COMERCIALIZADORA CARIBEAN.
Thermoform S.A.
Vía Cajicá, Zipaquirá Km. 4, Cajicá, Cundinamarca, Bogota, Colombia
+57 1 417 3800
thermoform@thermoform.com.co