Last Update
June 27, 2019
Categories
Composites, Plastics & Rubber
Military, Tactical, Logistic Support Vehicles & related equipment
Services (R&D, training, engineering, consultancy, …)
AUTOMOTRICES TITAN S.A., counts 30 years of experience in the Colombian automotive and industrial sector in the manufacture and marketing of clamps and other accessories, using high quality raw materials and advanced technology.
Thanks to its efforts and continuous research, AUTOMOTRICES TITAN S.A. has developed leading products that have replaced the imported. The Company was accepted with great confidence and credibility by the Colombian national market and countries such as Venezuela, Ecuador and Peru, among others, enjoy the multiple benefits that only AUTOMOTRICES TITAN S.A. can offer.
AUTOMOTRICES TITAN S.A. has become a leading company in the automotive sector in the implementation of advanced technologies, governed by the strictest international quality standards in terms of organization, procurement, warehousing and customer support.
AUTOMOTRICES TITAN S.A. is capable of adapting to technological changes by providing its customers with specialized high quality products. Furthermore, the Company has implemented ISO 9002:1994 and ISO 9001:2000 International Quality Standard.
MISSION
AUTOMOTRICES TITAN S.A. focuses on the development, manufacture and selling of parts and accessories for automotive and industrial consumption that satisfy customer needs and expectations in all matters relating to quality, price and services.
VISION
AUTOMOTRICES TITAN S.A. aims to be recognized nationally and internationally for its quality and innovation processes that meet the specific needs and expectations of its shareholders, employees, customers, suppliers and the community at large.
Contact info #1
Cra 127 No. 15 B - 20 Int. 6 Bodegas 1,2,3, Bogota, Colombia
Windshield Wipers TITAN HD
AUTOMOTRICES TITAN S.A. is manufacturing the next generation of high-tech windshields with optimum performance in extreme temperatures and conditions.
Metal Clamps
AUTOMOTRICES TITAN S.A. is manufacturing clamps in carbon and stainless steel for the automotive industry that meet the highest standards of quality, such as:
Screw clamps,
Industrial clamps,
Muffler clamps,
General purpose clamps,
Versatile clamps.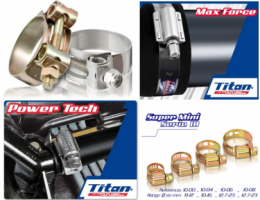 Automotive Fuel Tank Caps
AUTOMOTRICES TITAN S.A.'s car fuel caps are manufactured under the requirements of the automotive industry and are made of the finest materials to ensure long life, durability and perfect fit. More specifically, the Company manufactures and sells:
Oil filler caps,
Keyless fuel caps,
Radiator caps,
Key fuel caps.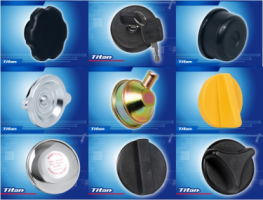 Universal Fuel Filters
The main function of AUTOMOTRICES TITAN S.A.'s universal fuel filters is to protect the engine and the injection system from oil impurities. Universal fuel filters are made of high density polypropylene using the highest quality methods.
Automotrices Titan S.A.
Cra 127 No. 15 B 20 Int. 6 Bodegas 1, 2, 3, Bogota, Colombia
+57 1 422 0612/13
+57 1 422 0575
sac@titangroup.com.co