Last Update
September 6, 2016
Categories
Composites, Plastics & Rubber
Services (R&D, training, engineering, consultancy, …)
INDUSTRIAS ESTRA S.A., is a Colombian company engaged in the manufacture and sale of plastic products for industrial and personal use, including food containers, storage containers, recycling bins, plastic tables, dinner sets and feeding systems, plastic utensils and toys among others.
The Company was established in 1953 in Medellin, Colombia and is known as one of the country's leading manufacturers of plastic products. It has five sales and distribution centers, three of which are located in Medellin, one in Bogota and one in Barranquilla.
MISSION
INDUSTRIAS ESTRA S.A. is committed to designing and commercializing excellent quality plastic products for the domestic, industrial and farming sectors, always fulfilling the expectations of its clients.
VISION
The Company aims to become a leader in the manufacture and commercialization of plastic products. INDUSTRIAS ESTRA S.A. is promoting sustainability and environmental protection through recycling campaigns aiming to activate people to protect the environment.
INDUSTRIAS ESTRA S.A. is a company committed to:
Offering innovative and practical added value solutions,
Promoting environmental management,
Controlling environmental impacts associated with its manufacturing activities,
Preventing occupational hazards and risks in order to improve the quality of life of its employees,
Continuously improving its manufacturing processes, products and services.
For Company's Presentation please visit here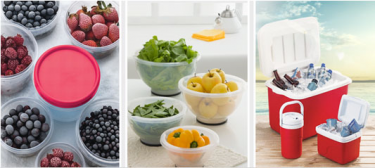 Contact info #1
Calle 30 No. 55 - 72, Medellin, Colombia
Home Solutions
INDUSTRIAS ESTRA S.A. is a manufacturer and retail seller of modern plastic solutions mainly for storage for the general industry. More specifically, the Company manufactures: Food and storage containers, plastic bowls, pitchers, cups and mugs, table accessories, kitchen utensils, coolers, thermoses, trash containers, such as corrugated bins, swing bins and pedal bins, bathroom accessories, such as buckets, laundry baskets and baby bathtubs, as well as plastic furnishing solutions, such as bathroom cabinets and kits.
Agricultural Industry
INDUSTRIAS ESTRA S.A. offers plastic solutions to the agricultural industry for the preparation and food handling, the storage and the transportation of animals, namely:
Automatic drinkers,
Gallon drinkers,
Feeders,
Plastic egg trays,
Transportation boxes.
Industrias Estra S.A.
Calle 30 No. 55 72, Medellin, Colombia
+57 4 350 0050
N/A
info@estra.com.co