Last Update
August 31, 2018
Categories
Mechanical, Electro-mechanical, Hydraulic and Pneumatic components
Services (R&D, training, engineering, consultancy, …)
ASESORÍAS INDUSTRIALES SANTAFÉ S.A., is a Colombian company, founded in Bogotá D.C. in 1992, that specializes in developing engineering solutions to optimize processes. Through time it has specialized in design, installation and the start of control systems and process automation.
The company's quality policy is based on the provision of security, welfare, health and integral development to its human resource, by means of implementing actions aiming prevent and avoid accidents at work and professional sicknesses.
ASESORÍAS INDUSTRIALES SANTAFÉ S.A. aims at improving continuously its integral quality management, security and occupational health, in order to satisfy the customers in terms of opportunity and qualified services with sustainable profitability and a better positioning within the high tech market.
Contact info #1
Jorge Armando Alvarez Galvis
Calle 80 Km 1,5 Local 105 Parque Agroindustrial de Occidente, Bogota, Colombia
Product Distribution
The company distributes the following products:
Fluid control and transportation; industrial consulting. The company is the distributor of several trademarks, internationally recognized for its quality and service. Among them, we find Tyco Valves, with valves and actuators for all types of design in retention/pressure relief/mud/ball/Hygienic.
Design, Automation Installation & Maintenance
This service is provided by different areas, such as:
Electric engineering:
Design and installation of low and medium tension electric sub-stations.
Design and installation of low and medium tension rushes.
Design and construction of Engine Control Centers.
Design and construction of control cabinets.
Mechanic Engineering:
Design and installation of utility networks (water, vapor, air and health).
Design and installation of process tanks.
Montage of Air rush.
Design and start of pneumatic systems.
Automation and control processes:
Design, programming and start of sequencial and continuous controls.
Industrial process Automation (dosage, weight, transfer, packaging, bottling, etc.).
Updating of control systems from wire logics, to PLC (Product Life Cycle), programmable controls.
Design of SCADA (Supervisory Control and Data Acquisition) systems, HMI (Human Machine Interface).
Preventive and corrective maintenance of equipment.
Computer engineering:
Design, installation and configuration of Smart networks in buildings (voice, data and security).
Development of communication systems plant floor (machinery data integration, production quantities with information about process and quality orders).
Interfaces between information systems and business databases (SAP - Systems, Applications, Products in Data Processing, Oracle, Informix, SQL e industrial SQL – structured query language).
Development and Implementation of administrative information systems.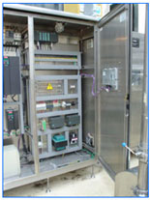 Valve & Tyco Actuator Maintenance
Supply and repair of butterfly valves and actuators.
Training & Technical Support
They offer training services in technical areas and engineering, for all types of industry and for all type of industrial automation products.
The technical support offered is by distance and in field mode in order to satisfy specific needs. Every agreement has a cost based on the number of hours provided. They provide technical support to maintain and repair the system every time it is required. In company training, programs, equipment or installation, or general support supply cut. They offer maintenance service in order to complement its personnel skills.
The training programs offered are the following:
Logo.
PLC´s (Step 7, Microwin, S71200).
HMI (Wincc Flexible).
Communication Networks (ASI, Profibus, Profinet).
SCADA (WinCC).
PLM (Solid Edge, NX).
Human Resource
For the service provision, ASESORÍAS INDUSTRIALES SANTAFÉ S.A. has conformed a human group specialized in electric and mechanic engineering, instrumentation, automation, and process and system control, in order to offer an integrated solution to all the stages of the project, and so assuring its quality and success.
Branches
The company has three branches, located in:
Bogotá:
Calle 80, Kilometro 1.5 Vía Siberia, Local 105, Parque Agroindustrial de Occidente, Teléfonos: +57 (1) 864 3094+57 (1) 864 3094, +57 (1) 864 3095+57 (1) 864 3095, Fax: +57 (1) 864 3258, e-mail: ventas@asinsan.com
Valle:
Cali, Av 5A Norte #45N-10, Teléfonos: +57 (2) 664 6716+57 (2) 664 6716, 371 2383, Fax: +57 (2) 664 6716, e-mail: ais_cali@asinsan.com
Antioquia:
Medellín, Cra 43A, # 49D sur 40, Plaza Mayorca apto 1006 Envigado Teléfonos: +57 (4)331 2962+57 (4)331 2962, e-mail: ais_medellin@asinsan.com
Machinery & Equipment
Digital multimeter,
Cable follower,
Hammer drill,
Jig,
Blower,
Air gun,
Clamp,
Welding equipment,
Compressor,
Hyraulic crimp,
Bristol keys,
Tube press,
Office equipment.
Clients & Projects
Colmotores: Automation and painting line control. Oven control.
Femsa: Security system for simonazzi 180 L7 filler. Installations and connections, security systems for rinse machines and line 5 bottle fillers. Installations and connections, security systems for rinse machines and line 6 bottle fillers.
Popayán aqueduct: Updating for the level and pondaje control system in plant.
Siemens: Implementation of transformers' pressure control systems for up to 120 tons strength, by means of a hydraulic system with load distribution and multiple fulcrums.
Asesorias Industriales Santafe S.A. (AIS)
Calle 80 Km 1,5 Local 105 Parque Agroindustrial de Occidente, Bogota, Colombia
+57 1 864 3094
+57 1 864 3258