Last Update
November 17, 2016
Categories
Aircraft, Helicopter, UAV, Spacecraft & related equipment
Maintenance Repair Overhaul and Logistics Support
Services (R&D, training, engineering, consultancy, …)
AEROSERVICIOS ESPECIALIZADOS S.A. DE C.V. is a Mexican company established in 1977. The Company provides helicopter transportation services mainly for the oil, gas and electric power industries. The Company's team of professionals, pilots, mechanics, engineers and administrative personnel, among others, are committed to satisfy customers' demands in compliance with international aeronautical regulations.
AEROSERVICIOS ESPECIALIZADOS is a leader in the helicopter transportation industry. With the most modern helicopter fleet in Mexico, the Company offers its customers air transportation services ideal for aerial monitoring, offshore operations, as well as preventive and corrective maintenance services on aircraft, among others.
With the largest presence throughout Mexico, the Company has maintenance centers for the maintenance of Bell, AgustaWestland and Pratt & Whitney engines.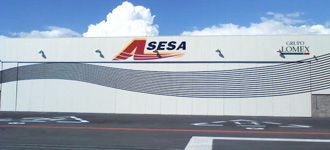 Aeroservicios Especializados
Hangar No 5 Zona G De Hangares Terminal 2 Del AI, Mexico City, Mexico
+52 (55 1545 0506
N/A
info-asesa@grupolomex.com