Last Update
September 10, 2018
Categories
Composites, Plastics & Rubber
Metal Processing, Parts & Components
Services (R&D, training, engineering, consultancy, …)
Aerosud is an established leader in the aviation industry supplying integrated manufacturing solutions. Aerosud is a smart supplier, capable of adding value to partnerships involving programme management, design, development and production processes.
DESIGN & DEVELOPMENT
A core team of experienced engineers and designers are employed with expert knowledge in the following specialised disciplines; structure (static and dynamic); hydraulic and pneumatic; oxygen and fuel; environmental control and chilling; electrical load analysis and EMI/EMC; fire, smoke and toxicity.
METALLIC
Metallic part production ranges from simple hand-formed sheet metal parts to complex press-formed parts and die-punched parts. In-house machining capability for aluminium and titanium parts of medium size are currently in use. This capability is supplemented with numerous South African based machining suppliers. Robotic welding of aluminium and iconel as well as an NDT facility is used. Heat treatment and surface treatment (including paint) facilities for aluminium alloys are also used. All of these facilities are available in-house. All press tooling is designed in-house and Aerosud has well established relationships with several South African based tooling manufacturers.
ASSEMBLIES
Metallic assemblies are performed and these range from equipped parts to multiple assemblies such as avionic racks. Assembly of metallic with non-metallic parts is also performed. Composite assemblies include mechanically fastened and/or bonded systems. These assemblies include metallic, thermoplastic and electrical parts and/or sub-assemblies. As with the composite assemblies, thermoplastic assemblies include mechanically fastened and/or bonded systems.
COMPOSITE
Composite manufacture is focused on phenolic resin system materials using an oven cured process. Parts manufactured include simple curvature as well as complex curvature parts with decorative finishes ranging from painting and laminates to textiles and leather. Current production volumes of composite parts exceed 2 500 parts per month.
THERMOPLASTIC
Thermoplastic part production is concentrated on NC controlled vacuum forming machines where simple and complex geometry parts are formed.CFRTP part manufacture includes Glass-PPS, Carbon-PEEK and PEI materials. Current production volumes of thermoplastic parts exceed 10 000 parts per month.
TECHNOLOGIES
Largest CFRTP press system in the world with 600 ton capacity allowing Aerosud to be a world leader in the production of CFRTP parts. Current projects also include the development of CFRTP assembly processes such as welding.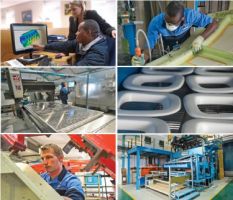 Aerosud Group
520, van Ryneveld Ave, 0045, Centurion, South Africa
+27126625000
info@aerosud.co.za