Categories
Aircraft, Helicopter, UAV, Spacecraft & related equipment
Services (R&D, training, engineering, consultancy, …)
Maintenance Repair Overhaul and Logistics Support
AEROTECNO is an Uruguayan company, established in the early 90s, primarily aimed at meeting the needs of the aircraft maintenance and repair sectors.
Owing to its continuous growth, the Company has begun to expand its activities to other areas, such as pilot training, aerial advertising, photography, executive flights and aerial sports.
The Company's mission is to make easier and safer the art of flying, through the provision of practical, innovative and cost effective solutions for its customers in a constant search of quality and excellence and with the support of highly trained technicians specialized in different disciplines.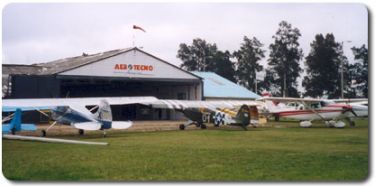 Aerotecno
Aeropuerto A.S. Adami Melilla, Montevideo, Uruguay
+59823236166
+59823236166
aerotecno@aerotecno.com