Last Update
September 29, 2022
Categories
C4I, Communication Systems
Electrical, Electronics & Electro-optics
Bushcomm is headquartered in Perth, Western Australia and specialises in the manufacture of high frequency (HF) antennas.
The company has a wide, specialised HF / UHF product range, including: Single and multi-wire HF base station antennas; Portable HF systems; Next generation active HF antennas; Standard and amatuer UHF whips; Mining industry L.E.D. illuminated safety whips.
Bushcomm customers list Includes: USAF - United States Of America; US Deployment in Iraq - Middle East; Norwegian Army – Europe; US Security Organisations – Africa; United Nations - Africa & Asia; PNG National Health services HF Network; MARS (Military Auxilary Radio System) USA; Pacific island Nations; VKS737 - Australia's Largest Outback 4x4 HF Radio Network.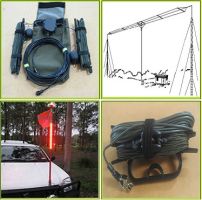 Bushcomm
21 River Road , WA 6053, Bayswater, Perth, Australia
+61 8 6144 3204
+61 8 9378 4429