Categories
Electrical, Electronics & Electro-optics
Chronos Technology Ltd. was founded by Charles Curry in 1986. The company is an ISO 9001 approved business-to-business specialist provider and system integrator. They provide bespoke technical solutions including: Time and Timing; GPS & GNSS; Network & Site Monitoring.
Chronos delivers equipment and services in the UK and overseas for the following sectors: Telecom; High Frequency Trading; Energy & Utilities; Broadcast; Defence & Security.
The company works on such diverse projects as:
- The roll-out of GPS synchronisation for a UK wireless operator at its ATM backhaul switch sites
- The longest GPS antenna cable run on the Kuwait Telecom Tower
- Synchronisation at undersea fibre landing stations
Chronos installation engineers have worked from the icy wastes of Siberia to the hot sands of Saudi Arabia.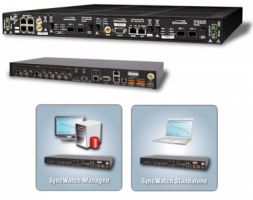 Chronos Technology Limited
Stowfield House, Upper Stowfield, Gloucestershire GL17 9PD, Lydbrook, United Kingdom
+441594862200
+441594862211
sales@chronos.co.uk