Last Update
August 22, 2018
Categories
C4I, Communication Systems
Electrical, Electronics & Electro-optics
Other Aerospace, Defence and High Technology related companies
CRD Protection started its activities in the year 2008 in Sweden. CRD´s business areas range from military defence to civil security. Their customers have a need for innovative products for perimeter protection, crowd management and non-lethal capabilities. CRD Protection has its headquarter and production facilities in Umeå, Sweden and a sales office in Stockholm, Sweden.
CRD is represented in more than 13 countries all round the world. Their customers are found within defence, law enforcement and private sectors.
The company's products list includes: Mobile Barriers (CROM 35; CROM 50; TACRION©; TACRION© Reinforced); Communication Systems (LRAD 100X; LRAD 300X-RE; LRAD 500X; LRAD 1000Xi; LRAD 2000X; LRAD-RX); Laser Dazzlers (Hydra-P; Medusa; Sea Lase II; UC-5); Vehicle Arresting Devices (Pit-Bull); Breaching Tools (TEC-Torch).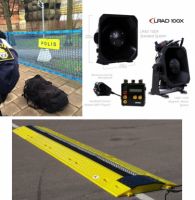 CRD Protection AB
Matarvagen 9, 90133, Umea, Sweden
+4690777900
info@crdprotection.com