Categories
Military, Tactical, Logistic Support Vehicles & related equipment
Mechanical, Electro-mechanical, Hydraulic and Pneumatic components
Metal Processing, Parts & Components
DOK-ING is a 100% privately owned Croatian company, established in the late 1991 and registered for the production of robotized and special purposes systems and equipment. The headquarters, production facilities and service are located in a15.000 square meters area in Zagreb, Croatia. The secondary production facilities are in Slunj, some 50 km south of Zagreb. Along with the branch office in USA, there is a company in South Africa, DOK-ING Africa, which supports the program for South African mines. Today DOK-ING has 220 employees, almost 170 being in Zagreb, another 30 in Slunj and up to 20 in South Africa.
DEMINING
MV-4
The MV-4 Mine Clearance System is a tracked, remote-controlled machine designed to clear all types of Anti-Personnel (AP) mines and UXO-s, and is survivable to all types of Anti-Tank (AT) mines. Due to its small dimensions and manoeuvrability, it is suitable for demining of house yards, orchards, forest paths, river banks, and other types of terrain that is inaccessible to larger machines. The various operating tools for mine clearance and soil processing destroy even the smallest Anti-Personnel blast pressure mines and the most dangerous types of bouncing fragmentation mines. The machine is remotely controlled from an armoured vehicle or from a safe distance. The engine and vital components of the machine are protected by steel plates.
MV-10
The MV-10 Double Tool Mine Clearance System (MV-10) is designed to clear various types of terrain containing Anti-Personnel (AP) mines, Anti-Tank (AT) mines, and unexploded ordnance (UXO). Due to its exceptional power and high clearance rate, the MV-10 is suitable for mine clearance of large areas contaminated with all types of mines and UXOs. The operating tools for digging and mine clearance are fixed to the front of the system and are specifically designed to detonate or destroy mines and UXOs as the MV-10 moves forward. The MV-10 uses two tools - a rotating flail tool designed to activate or shatter AP and AT mines and a rotating tiller tool that performs secondary clearance and also always keeps the digging depth constant. The flail and the tiller unit can operate simultaneously or independent of one another. Additional tool attachments include the roller and blade/gripper unit.
AUTOMOTIVE
Loox
Designed as a luxury city car, LOOX is at the same time built for more adventurous delight in driving and speed. DOKING space Frame (DSF) aluminium chassis with crashworthiness design and high torsion stiffness provides safety and stability. Battery space in the middle of the chassis and 2 or 4 electric motors symmetrically integrated in the front and rear sections ensure low centre of gravity and ideal ration of mass which improves sport driving performance.
FIREFIGHTING
MVF-5
The MVF-5 is the unique multifunctional robotic firefighting system developed to extinguish fires in life threatening conditions and inaccessible areas. The system is operated from a safe distance by using remote-control technology. The MVF-5 extends the reach of fire fighters as to protect high risk industrial facilities and other dangerous environments. The original design of MVF-5 is based on the proven technology used in construction of demining systems able to survive mine detonations and other hazardous operations in the most demanding and destructive environments. The low centre of gravity combined with powerful engine and compact original structure of the MVF-5 allows excellent manoeuvrability.
UNDERGROUND MINING
MVD-XLPD
The MVD Extra Low Profile (XLP) Dozer is designed as a very low profile, remote-controlled machine for multiple uses such as underground mining, construction, military and defence missions. Low profile and remote control makes it suitable for multi-purpose tasks and missions. The first dozer was developed in 2003 when the South African mining sector expressed a need for a small machine which could assist with the cleaning of slopes after blasting. It is controlled by a single operator using a simple and convenient hand-held remote control unit. The experience has shown that most people can be trained within a period of several days to operate the machine.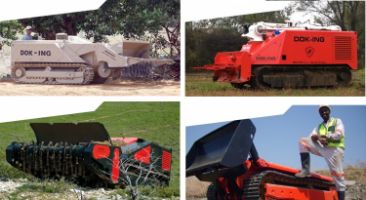 DOK-ING Ltd.
Kanalski put 1, 10000, Zagreb, Croatia
+38512481300
+38512481303
info@dok-ing.hr