Last Update
October 6, 2016
Categories
Aircraft, Helicopter, UAV, Spacecraft & related equipment
Services (R&D, training, engineering, consultancy, …)
GLOBAL VECTRA HELICORP LTD. (GVHL) is India's largest private helicopter company, with a fleet of over 20 aircraft, including Bell Helicopters (Bell 412), Airbus Helicopters (H155B1, H135P2, H130T2 and AS350B3) and AgustaWestl and Helicopters (AW 139). The fleet of helicopters, which range from small light helicopters to medium-sized twin helicopters, offer seating capacity form 5-15 passengers.
GVHL offers specialist offshore and onshore transportation services to the oil and gas sector as well as tourism, charter and utility services throughout the country.
GVHL is listed on the National Stock Exchange and the Mumbai Stock Exchange. It is an ISO 9001:2008, 14001:2004, and OHSAS 18001:2007 certified company. These certifications cover all GVHL activities, including flight operations, engineering, safety, quality control, and commercial systems. GVHL's maintenance facility at the Juhu air base in Mumbai meets international quality standards and has full certification from the DGCA (Directorate General Civil Aviation).
GVHL is a part of the Vectra Group of companies, which is engaged in Aviation, Heavy engineering, Real estate, Information and technology and Security systems.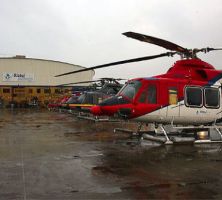 Global Vectra Helicorp Ltd. (GVHL)
Hanger No. - C - He / Hf, Airports Authority of India, Civil Aerodrome, Juhu, Mumbai, India
+91 226 140 9200
+91 226 140 9300
globalhelicorp@gvhl.net