Categories
Military, Tactical, Logistic Support Vehicles & related equipment
C4I, Communication Systems
Mechanical, Electro-mechanical, Hydraulic and Pneumatic components
Services (R&D, training, engineering, consultancy, …)
The joint stock company "Kurganmashzavod" is the largest enterprise of the Kurgan region, one of the leaders of the Russian military industrial complex, jointed to "Concern Tractor Plant". It is the only plant in Russia producing infantry fighting vehicles adopted by the armies of 30 countries.
The combat vehicles manufactured by JSC Kurganmashzavod are known all over the world. These are BMP-2, BMP-3 fighting vehicles and the vehicles on their base, upgraded BMP-1, BMP-2 and BMP-3, BREM-L armoured recovery vehicle, and BMP-3 based multipurpose chassis for mounting various weapons systems.
In March 2008, the production of first prototypes of modernized BMD-4M airborne assault vehicle was finished. This unified military vehicles, which has no analogues in the world, and allowed improving the firepower and maneuverability of Russian army airborne sub-units. The main peculiarity of BMD-4M is that the original power unit and driving gear are changed to standard one, used for BMP-3. It helps to decrease the time of airborne assault vehicle servicing in the army and decrease the price of production within government defence odder of Russian Federation Military Department.
Kurganmashzavod JSC is a large engineering complex enjoying all departments of a modern enterprise. It comprises special plants and auxiliary workshops ensuring the complete production cycle. Due to its own unique production, technology, testing equipment and facilities Kurganmashzavod JSC performs efficient R&D works and experimental development, pilot production and full-scale production of armored vehicles.
Fighting vehicles - Multi-year and hard work of Kurganmashzavod JSC has resulted in world-famous infantry fighting vehicles BMP-1, BMP-2 and BMP-3 and the vehicles on their base. The list of fighting vehicles produced by the company includes: BMP-3 Upgraded infantry fighting vehicle; BMP-3 family; BMP-2 Upgraded infantry fighting vehicle; BMP-2 Infantry fighting vehicle; BMP-1 Upgraded infantry fighting vehicle (upgrading versions); BREM-L Armoured recovery vehicle.
Turrets - The unique IFV turrets fitted with powerful armament systems ensure precise fire power enabling to fight against various types of aerial and ground targets, similar-type vehicles and enemy manpower. The turrets can be installed on both tracked and wheeled chassis. The list of turrets produced by the company includes: BMP-3 Turret; BMP-2 Turret.
Training simulators - The set of simulators are intended for studying the general arrangement, principles of operation, operation and maintenance rules of the systems and mechanisms of infantry fighting vehicles. Features as compared to the direct training on the vehicle: precise skills in students' actions acquired; damage of vehicles excluded; training expenditures reduced due to saving of fuel and lifetime of vehicles; accidents when training the crew prevented; individual and group training of the crew.The list of training simulators produced by the company includes: UBO-688 Turret simulator; UKS-688 Training rig; UB-675 Turret simulator; UDS-675 Training rig.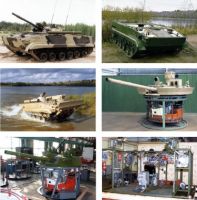 Kurganmashzavod
17 Mashinostroitely Ave, 640027, Kurgan, Russia
+73522232083
+73522232071
root@kurganmash.ru