Last Update
December 21, 2016
Categories
Metal Processing, Parts & Components
Machinefabriek Emmen B.V. is a dynamic engineering company with approximately 70 employees. Over the years, they have developed an experience in the metal work sector with versatile construction works, engineering, equipment, maintenance and repair activities.
Machinefabriek Emmen is active in the following sectors: Mechanical; Oil & Gas; Infrastructure; Environmental; Engineering; Maintenance.
Although particularly active in the regional and Dutch market, Machinefabriek Emmen also focusses on the international markets. The foreign clients are mainly from the environmental sector to deliver (parts of) waste separation installations.
Apart from the EN ISO 9001, MF Emmen is certificated in the following standards: EN1090-1, 1090-2, EXC-3, EN-ISO3834 and DIN 2303 Q2-BK2.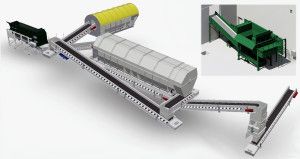 Machinefabriek Emmen B.V.
Phileas Foggstraat 35, 7825 AK, Emmen, Netherlands
+31591630888
+31591632024
info@mfemmen.nl