Last Update
November 21, 2016
Categories
IT, Computing and Software
Radar, Sonar, Navigation, Targeting, Surveillance
Navicom Dynamics are global specialists in precision orientation technology and monitoring systems, based in Auckland, New Zealand. Their products have been tried and tested by marine pilots and mooring masters around the world for over a decade and are currently used in over twenty countries. Navicom Dynamics is also able to provide precision GNSS positioning solutions for bespoke projects - at sea and on land.
PRODUCTS
ShuttlePilot - It offers berthing aid systems for relative positioning in tandem mooring, side-by-side mooring or ship to buoy mooring. Emergency warning and emergency shutdown features include riser monitor alarms, jack-knife warnings and an emergency shutdown system. All systems can be fully customised to meet customers' needs.
HarbourPilot - It offers superior navigation with the highly accurate heading and positioning performance. As a high precision Portable Pilot Unit, HarbourPilot provides marine pilots with reliable Information, independent from ship's data, greatly improving port safety and efficiency.
ChannelPilot - It offers a truly superb alternative to other high-end PPU's, offering a combination of independent GPS positioning and highly accurate rate-of-turn with semi-independent heading data.
GyroPilot - It wirelessly transmits AIS data, smooths heading and adds ROT. When AIS fails, GyroPilot can supply position and COG for emergency use.
Software - Navicom Dynamics combines world leading portable pilot technology with the leading pilot ECS.
Other Products - A range of toughpads, laptops and antennas are available which complement all solutions.
Port Management: Advanced Applications - Full and accurate information is vital for marine pilots maneuvering increasingly larger ships in often narrow and busy waterways. Information sharing between all parties involved in port operations is also vital. Navicom Dynamics are able to provide advanced applications to enable all parties to share common data to greatly improve safety and efficiency.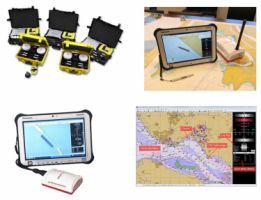 Navicom Dynamics
2 Parkhead Place, Albany 0632, Auckland, New Zealand
+64 9 915 5330
+64 9 915 5331
info@navicomdynamics.com