Last Update
September 12, 2018
Categories
Composites, Plastics & Rubber
Mechanical, Electro-mechanical, Hydraulic and Pneumatic components
Metal Processing, Parts & Components
NSK, was founded in 1916 and produced the first ball bearings made in Japan. Since then, the company has spearheaded the development of bearings in Japan. NSK now offers a full range of bearings and sells them worldwide. NSK bearings have contributed greatly to the growth of many industries and to the advancement of mechanical technology. Now, the company has the largest share of the bearings market in Japan and is one of the largest bearing suppliers in the world.
NSK has used its expertise in precision machining technology, refined through years of bearing manufacturing, to diversify into: automotive products, precision machinery and parts, mechatronic products.
By further harnessing the potential of its global network, NSK strives to further enhance its R&D, Manufacturing, Sales and Management capabilities.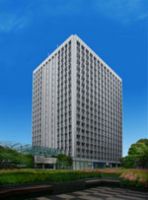 NSK Ltd.
Nissei Bldg., 1-6-3 Ohsaki, Shinagawa-Ku, 141-8560, Tokyo, Japan
+81 0337 79 7111
+81 0337 79 7431