Last Update
September 12, 2018
Categories
Aircraft, Helicopter, UAV, Spacecraft & related equipment
Maintenance Repair Overhaul and Logistics Support
Services (R&D, training, engineering, consultancy, …)
ADVANCED TECHNOLOGY FACILITY PT, is a company specialized in providing services and support to the aviation organization such as provisioning for Aircraft Leasing, Purchase and Rental, Spare Parts as well as Repair/Overhaul of Fixed and Rotary Wing engines and accessories to South East Asia, Asia Pacific, Middle East and the rest of the world.
The company is a Distributor of Aeronautical Products registered number DGCA-Indonesia 57/0460 and in addition is a member of Aviation Association Supplier, The Chamber of Commerce and Industries, and The Association of middle Enterprise of Indonesia.
The company is expanding the full array of services globally to meet unique, local and regional needs. These cover the commercial and the aviation business sectors which include fixed and rotary wing.
With strategic partners and alliances/collaboration with many local partners in Asian countries, many reputable various vendors, repair shops and manufactures of aeronautical products.
SPARES AIRCRAFT COMPONETS SUPPORTED
The company aims to provide total support for its customers needs. It can provide spares support especially for the following aircraft types: Bell Helicopter all series, Fokker 27, 28, 100, Boeing 727/737/747 Series, Airbus A300-A330 Series, NC212, CN235 and others Indonesia aircraft products.
REPAIR & SERVICES
The company offers third party repair and overhaul management services.
OTHER AIRCRAFT OPERATION SUPPORT SERVICES
Aircraft and Engines maintenance support, Aircraft and Engines purchasing, selling and leasing support.
Most of the above products comes traceability or manufacturer recommended Shelf Life, technical support data and product labels upon purchase.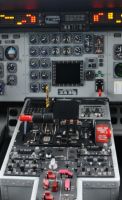 PT Advanced Technology Facility
Metro Trade Center Kav. B35, No. 590 Soekarno-Hatta Str., 40286 , Bandung, Indonesia
+6222 753 6432
info@advantechno.com