Categories
Electrical, Electronics & Electro-optics
IOR was established in 1936 and its main activity is the design and manufacture of opto-mechanical equipment. The company is SR EN ISO 9001 certified since 1992.
In 1941 IOR was militarized and, therefore, it preminently manufactured products for the army (binoculars, telescopes, telemeters, etc.). After 1949, the first eyeglasses lenses were produced, in 1951 the first didactic microscopes and, in 1954 the first photo apparatus. After 1959, more attention was given to the medical area and so the first products for ophthalmology were manufactured. In 1960 IOR produced the first binocular laboratory microscopes, in 1961 the first dental units, in 1962 the first research microscopes and in 1967 they began to produce photo objectives. After 1980 IOR started its activities in the emerging fields of opto-electronics, lasers, metrology and thermovision.
The company's military equipment includes:
Sighting, Aiming Apparatus for Infantry - Aiming Telescopes; Night Aiming Scope; Day / Night Telescopes; Night-time Sighting Apparatus; Compasses; Binoculars; Laser Range Finding; Thermovision Sighting Apparatus.
Sighting, Aiming Apparatus for Artillery - Aiming Apparatus for Throwers; Aiming Apparatus for Cannon and Mortars.
Sighting, Aiming Apparatus for Armored Vehicles – Periscopes; Day or Night Sighting Apparatus for Driver; Day or Night Sighting Apparatus for Commander; Aiming Apparatus for Armored Vehicle.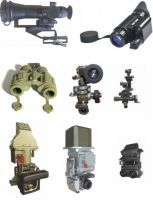 S.C. I.O.R. S.A.
Str. Bucovina nr.4, sector 3, C.P. 030393, Bucarest, Romania
+40213244210
+40213244512
commercial@ior.ro