Last Update
August 30, 2018

Categories
Other Aerospace, Defence and High Technology related companies
Raw Materials
Saudi Aramco, is the state-owned oil company of the Kingdom of Saudi Arabia and a fully integrated, global petroleum and chemicals enterprise. The Company is Headquartered in Dhahran, Saudi Arabia, with offices and operations throughout the Kingdom, employing more than 61,000 workers worldwide from 77 countries.
Over the past 80 years Aramco has become a world leader in hydrocarbons exploration, production, refining, distribution, shipping and marketing, and the world's top exporter of crude oil and natural gas liquids (NGLs).
Saudi Aramco's oil and gas production infrastructure leads the industry in scale of production, operational reliability, and technical advances. Its plants and its people makes them the world's largest crude oil exporter, producing roughly one in every eight barrels of the world's oil supply. Saudi Aramco maintains the world's largest spare crude oil production capacity, ready to stabilize the global oil market in times of disruption.
Saudi Aramco's subsidiaries and affiliates are located in Saudi Arabia, China, Egypt, Japan, India, the Netherlands, the Republic of Korea, Singapore, the United Arab Emirates, the United Kingdom and the United States.
Today, the Company is positioned to build upon its prominence as a stable supplier of hydrocarbon resources. By producing petrochemical products, building export refineries and advancing the development of technologies that will result in cleaner fuels designed for the new generation of internal combustion engines.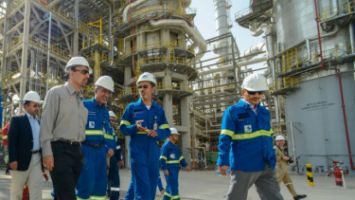 Saudi Aramco
P.O. Box 5000, 31311, Dhahran, Saudi Arabia
+966 (013) 874 2222
SupplierHelpDesk@aramco.com