Categories
Metal Processing, Parts & Components
Saudi Steel Profile Company, is a wholly owned subsidiary of ASB Group (Ahmed Salem Bugshan) that has assets in excess of SR 4.0 billion under management. Saudi Steel Profile Co-established in 1993, manufactures wide range of steel profile products that includes ERW Pipes/Tubes, Steel Sheets/Plates, Expanded Metal Mesh, Stud & Runner, C-Channels, Profiled Corrugated Sheets, Décor Pipes and Flanges Etc.
Saudi Steel Profile Company has 4 manufacturing facilities in 2 countries (Saudi Arabia & Yemen), it is an ISO 9001:2000 & a former API Spec Q1 and API Spec 5L (American Petroleum Institute) accredited manufacturer and supplies broad range of steel products to a diversity of customers that includes leading contractors, steel traders, building material suppliers, fabrication and furniture Industry.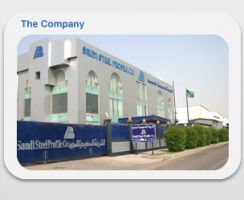 Saudi Steel Profile Co.
P.O. Box 42502, 21551, Jeddah, Saudi Arabia
+96626353535
+96626380759
info@saudisteel.com.sa