Last Update
July 27, 2017
Categories
Metal Processing, Parts & Components
Peekay Steel Casting is a leading manufacturer of Ferrous Steel Castings from 1 kg to 15000 kg single piece from two plants in South India viz., Calicut and Coimbatore. The company is one of the pioneers supplying fully finished steel castings for Oil and Gas, Power Generation, Mining, Locomotives and other engineering sectors.
Peekay Steel is the flagship company of Peekay Group having annual turnover of US$ 120 Million US$ and the sales turnover of Steel Casting business is close to US$ 50 Million annually.
The company has in its feather all third party accreditations and also obtained awards and recognition from national, international and governmental agencies for the excellent contribution to the industrial segments. The vision of the company is to be one of the conglomerate giving one Stop Solutions to all the steel requirements from customers.
QUALITY
Quality Management System as per EN ISO 9001-2008 By TUV NORD for Manufacture and Supply of Steel Castings in Machined and as Cast condition - Company has been certified since 2000
ISO 14001:2004 By TUV NORD
OHSAS 18001:2007 by TUV SUD
Certificate of Quality system for Material Manufacturer according to Pressure Equipment Directive 97/23/EC By TUV NORD since 2003
AD 2000-Merkblatt W0 By TUV NORD company has been certified since 2003
Approval from Lloyd's Register Asia
Well Known Foundry certification under Indian Boiler Regulations 1950 for castings up to 12000 Kg/Piece
Foundry Approval by BV Marine (For Steel Castings & Recognition for Mode II Scheme)
Approval of Manufacturer Certificate by DNV (DET NORSKE VERITAS).
Transportation and Power Generation (TPG) Accreditation by Performance Review Institute (PRI)
NORSOK M-650- Qualification for Type 22Cr Duplex SS (MDS D46 Rev.04 Grade 4A CD3MN)
NORSOK M-650- Qualification for Type 25Cr Duplex SS (MDS D56 Rev.05 Grade 5A CE3MN)
NORSOK M-650-Qualification for Type 25Cr Super Duplex SS (MDS D56 Rev.05 Grade 6A CD3MWCuN)
Supplier Qualification Certificate from EMERSON
NTPC approved supplier for Castings
Best Business Partner Award by BHEL
Approved by Norsok for ASTM A995/A890 Gr. 4A, Gr. 5A and 6A
Certificate for Welding Railway Vehicles and Components according to EN 15085-2 certified by DVS ZERT GmbH, Germany
Foundries of Peekay Steel Castings are rated as:
Top 2 foundries in Asia Pacific (catering to Oil & Gas, Power and Mining sectors) with highest number of quality certifications.
Top 10 foundries in the world catering to the Oil & Gas sectors.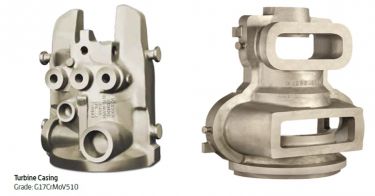 Peekay Steel Castings Pvt. Ltd.
Opp. KSEB Sub Station, Nallalam, Kozhikode, Kerala State, 673027, Kozhikode, India
+9104952422500
+9104952420724
pkscsales@peekaysteel.in