Last Update
September 13, 2018
Categories
Ballistic Protection
CBRN Equipment
Composites, Plastics & Rubber
Services (R&D, training, engineering, consultancy, …)
Sestan-Busch manufactures ballistic security equipment, biologic chemical protective items and a wide range of thermoplastic and composites products and parts. The firm has 50 employees and their products are exported in more than 40 countries all over the world.
Sestan-Busch is a modern private factory working under ISO 9001 standards and cooperating with international well-known institutes from Croatia, Germany, Italy, U.S.A., Spain and other countries in the research and development of new materials.
The company's products list includes: riot composite helmets with high ballistic protection V50 over 700 m/s; personal decontamination kit UPOD M1 and M2; different technical products from plastic materials for special purposes.
Sestan-Busch is active in development of new materials, new testing in the field of protection, comfort, ability and design of riot helmets and other products, also in the development of new protection helmets for riot armoured vehicle and parachutists helmets.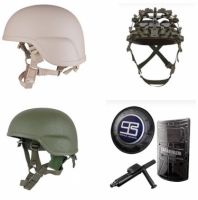 SESTAN-BUSCH LTD
Industrijska zona 3, 40323, Prelog, Croatia
+38540646330
+38540646300
sestan-busch@ck.htnet.hr