Categories
Aircraft, Helicopter, UAV, Spacecraft & related equipment
Electrical, Electronics & Electro-optics
IT, Computing and Software
Radar, Sonar, Navigation, Targeting, Surveillance
Services (R&D, training, engineering, consultancy, …)
With headquarter in Denmark, Sky-Watch has since 2009, developed, manufactured and implemented high-tech solutions for real-time decision making in complex environments worldwide. Sky-Watch's R&D competencies encompass unmanned systems, advanced embedded control software, integrated industrial design and intuitive user interfaces.
Sky-Watch is among the most innovative companies in the drone industry. They specialize in developing and manufacturing advanced autonomous sensor technologies for defense, law enforcement, and emergency management.
HUGINN X1 - Huginn X1 is a quadcopter system. The setup enables it to perform vertical take-off and landings without any launching or landing mechanisms. The intuitive and logical user interface facilitates personnel with little or no technical knowledge to operate the Huginn X1 following only a minimum of training. With a deployment time of less than one minute, the Huginn X1 is the perfect tool for reaching inaccessible or high-risk areas. Transporting the Huginn X1 is not a problem as its size is small enough to fit into hand luggage on commercial flights. The high precision GPS facilitates autonomous real-time waypoint navigation. The advanced avionics in the Huginn X1 have been designed with ease of use in mind, enabling the operator to focus on the task at hand. Combined, these features make the Huginn X1 the total solution for a broad range of monitoring, surveillance and reconnaissance tasks. The system can be used for Defense, Emergency & Rescue, Law Enforcement and Non-Governmental applications.
MUNINN VX1 - The Muninn VX1 is suitable for medium-distance reconnaissance or geo-mapping assignments. This aircraft combines the advantages of rotor-based drones with the longer range of a fixed-wing UAVs. The sophisticated on-board sensor technology makes it ideal for use by environmental and defense applications. The system can be used for Civil, Defence, Arctic Research & Surveillance applications.
FENRIS - The Fenris rangefinder offers an alternative control unit with a simple, easy-to-use interface for the Huginn X1 drone. Available also in a weapon-mounted version with ballistic computing and a shot counter, the Fenris is designed primarily for the defense application.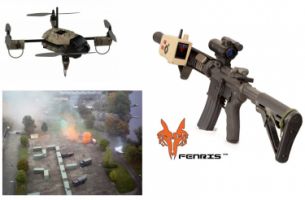 Sky-Watch A/S
Østre Alle 6, 9530, Støvring, Denmark
+4596867666
sales@sky-watch.dk